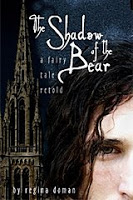 Fairy Tale Novels
Fairy Tale Novels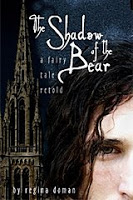 I just completed an amazing trilogy that I thought I'd share about. The trilogy consists of the first three books of the Fairy Tale Novels by Regina Doman.
The trilogy begins with The Shadow of the Bear, the retelling of the classic fairy tale Snow White and Rose Red. It is set in modern-day New York City. Blanche and Rose are sisters in high school, and they meet a young man named Bear, who rescues their mom from a swerving car. He looks to be poor and even a bit shady, but they soon discover there is goodness hidden beneath his dirty clothes and matted dreadlocks. He continues to visit them frequently and friendship blossoms.
As the story progresses, mystery unfolds that I won't spoil for you. There is action, adventure, a pure and tastefully-written romance, good vs. evil, and other real but beautiful human experiences on every page.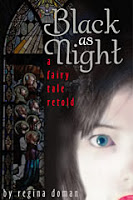 The book leads into the second installation of the trilogy Black as Night. Again, it is the retelling of a classic fairy tale. This time Snow White and the Seven Dwarfs. Black as Night is very much the story of the relationship between Blanche and Bear. Some time has gone by between the first and second books, but the author does a nice job of providing "flashbacks" that fill in the gaps.
The book starts out with the two main characters being apart from one another. Blanche is in New York City working over the summer, and Bear is in Europe traveling around with his brother Fish, who we meet briefly in The Shadow of the Bear. Something evil is following Blanche, and she senses it but can't quite figure out what it is. While seeking refuge within the walls of a familiar church, she encounters a group of friars who recently have taken over the once-abandoned building. They befriend her, and slowly her story unfolds for them but parts remain hidden. Nonetheless they do what they can to help her, going above and beyond the call of duty. Or perhaps not, they are friars after all!
Meanwhile, Bear has an overwhelming determination to return to New York when he can't get a hold of Blanche. When she still seems missing upon his return, he senses the evil as well. He and Fish, along with Rose and a couple other returning characters, scour the city in search of her.
Again, a mystery needs to be solved. Clues are discovered by both Blanche and Bear. Puzzle pieces start fitting together. The storyline is extremely intense at times, and often I found my heart racing, and my eyes not able to read the words fast enough to find out what happens next.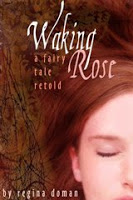 After reading these first two books, I was eager to begin Waking Rose. However, I had grown to like the characters of Bear and Blanche so much, I secretly wanted it to be more about them. I was a little sad about this fact, as I started reading it, even though I was looking forward to it at the same time. (BTW, they are in this novel, just with smaller roles 🙂 Anyway, whatever slight disappointment I started out with, quickly disappeared as I instantly was hooked into the story of Fish and Rose. This time the retelling of Sleeping Beauty.
Ever since they met one another in The Shadow of the Bear, Rose has had an attraction to Fish. However, Fish has been very reserved in wanting to keep his distance due to issues that are revealed within the plot of the book. They remain friends, and the first part of the novel displays the deepening of Rose and Fish's relationship, giving his and her perspectives. First with Rose wanting more than friendship from Fish, and Fish resisting. Then, after Fish turns to Rose as a confidant, we see his heart opening up more to the possibility of a deeper relationship with Rose—which even surprises him. (The various dialogues between these two characters are fantastic!) Actually, the transformation Fish undergoes during the storyline is quite remarkable, and I was deeply moved by it, including his developing friendships with Rose's college friends. If you read it, you will see what I mean!
Of course, what fairy tale would be complete without a mystery to be solved, good conquering evil and sacrificial love? Again, Ms. Doman had me on the edge of my seat all the way until the end.
These novels are geared toward teens (14+), but I thoroughly enjoyed them. They were a meaningful distraction during my hectic days as a wife and mother. What I loved about them? They are simply excellent stories with excellent character development. The characters are real—ordinary people embracing extraordinary circumstances—in genuine, caring relationships. You wouldn't mind knowing them in real life, or having your children know them. Ms. Doman does a beautiful job of weaving the Catholic faith into her stories, eloquently, without being preachy; the characters live their faith in real, everyday ways. The handling of various issues, even sensitive ones, is done very honestly yet discreetly.
If you have a teen in your life, I highly recommend giving these books to them. And if you're looking for a good fiction to enjoy yourself, I don't think you'll be disappointed with the Fairy Tale Novels.