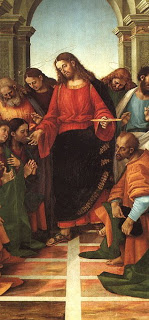 The Bread That Unites and Preserves
The Bread That Unites and Preserves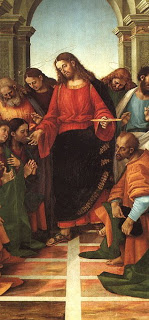 A friend of mine sent me this beautiful quote, prayer and image today. I thought I'd share it with you …
In the Bread which came down from heaven, the family will be able to find the support that will keep it united in the face of today's threats and will preserve it as a bastion of life, steadfast against the culture of death.
—Pope John Paul II, Message to Archbishop of Seville, June 5, 1995
Prayer for Life
Lord Jesus Christ, Son of the Living God and Son of Mary, we praise and thank You for the precious gift of life, Divine Life and human life. We commit ourselves to adoring and proclaiming Your Personal Presence in the Most Holy Eucharist, for in you alone is the victory of life. We dedicate our lives to protecting and defending all human life: the unborn babies, the sick, the elderly, the poor, and all victims of violence. We implore Your Love and Mercy upon the whole world, for You are the true source of all peace and all hope. By the Life-Giving power of Your Precious Body and Blood, please strengthen and guide us to proclaim, protect, and defend the dignity and sanctity of life. Transform us by Your Merciful Presence in the Blessed Sacrament, that we may all be one with You, and the Father and the Holy Spirit now and forever. Amen.