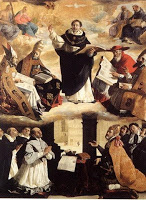 Feast of St. Thomas Aqunias
Feast of St. Thomas Aqunias
I am on a daily Eucharist e-mail list, which includes a quote from a saint, book or other inspiring sources as well as an image. Today's e-mail included a beautiful quote on the Eucharist from St. Thomas Aqunias. On his feast day, I thought I'd share it with you.
He keeps nothing back.
He places all the riches of His love
into the sacramental gift.
In this Gift He presents to us
all the love of His Incarnation,
all the merits of His life and His works,
the entire price of Redemption.
—
St. Thomas Aquinas, pray for us!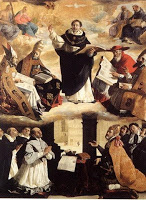 (Apotheosis of Thomas Aquinas by Francisco De Zurbaran, 1631)