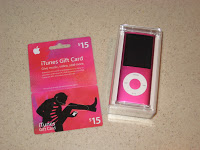 Tickled Pink
Tickled Pink
Last night, when my husband came home from work, there was a lot of commotion near the coat closet. I was in the kitchen making dinner, and all I could hear from him and my trio were whispers and shhhes.
"What is going on?" I wondered.
My oldest came into the kitchen, followed by her younger sisters, and asked me if I was tired.
"Tired? Of course I'm tired," I thought to myself. "I'm a mom of five young kids!"
She continued to ask me if I wanted to go upstairs and take a break. Strange.
Then, I noticed that the trio had these little, mischievous smiles on their faces, and they were trying to hold back giggles.
Then, they told me Dad had brought home a surprise for me, and they started giving me (obvious) clues to get me to go upstairs. They are young, so their clues (you stick this in your ears and you listen with it) were way too obvious and their secret-keeping skills were lacking, as Dad quickly discovered as he came into the kitchen.
But, being a mom, I obliged, and told them that maybe I was tired and that I would go upstairs.
Clearly, they didn't really want me to go upstairs to relax, as they were following right behind me, still giggling and actually trying to beat me to my room by passing me on the stairs.
"What are you up to?" I asked everyone. I had put the clues together, but I really couldn't believe what I thought I would find upstairs.
The trio told me to look under my pillow, as they jumped up and down laughing. I did, and to my sincere surprise, I found my very own pink iPod nano! I was just so shocked. I never expected it, or even asked for it. Christmas was over. My birthday is a couple months away. Valentine's Day is even a few weeks off, but we don't make it a HUGE deal around here (just little tokens of affection, and it involves the whole family). No, it was an ordinary Wednesday, and I was receiving an extraordinary gift from my wonderful husband.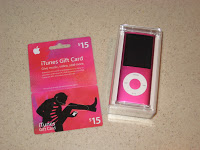 When I asked him why, what was the occasion, he simply said "because you work so hard around here."
I had been borrowing his old iPod shuffle to listen to while I knit. I even used it once while I cleaned, and the time flew by! Other people had borrowed his shuffle, too, though, so sometimes it was a bit quirky. I sort of thought that one day I would upgrade, but I didn't voice that hope at all, as I was just content with what I had.
My husband is good like that. He listens and thinks. He surprises me. He honors me through his words. Not only am I grateful for how he loves me, I am grateful for how his ways are teaching our kids how husbands should love their wives. They are learning profound lessons through his actions. No, he doesn't need to buy me expensive presents to show his love or teach our kids. This was a rare treat indeed! No, I have been touched numerous times by little and big ways he has expressed his love, care and concern for me. And I think, "Wow! Do I feel special!" And I also think, "Wow! Am I grateful our kids are witness to this!" I am so blessed. Yes, I am tickled pink!