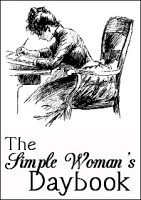 The Simple Woman's Daybook—February 2
The Simple Woman's Daybook—February 2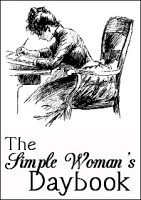 For today … Presentation of the Lord, Candlemas
Outside my window … bright sunshine; clear, blue skies; white snow
I am thinking … that I need to pick up my 4-year-old from preschool soon
I am thankful for … my husband's job
From my kitchen … dishwasher still needs to be unloaded; candlelight dinner of chicken and rice and simple, but special
dessert
I am wearing … favorite green, cowl-neck sweatshirt, long-sleeved tee, jeans, floral socks, brown-sueded slippers
I am reading … Common Sense 101: Lessons from G.K. Chesterton; I just checked out a bunch of other books from the library, so I have a decision to make—what to read next!
I am hoping … for a fun evening of catch-up with my neighbors
I am creating … a pink "scarf," a Valentine tree (idea
here
)
I am hearing … my daughter's Leapster and her talking with an imaginary friend named "Ruthie"
Around the house … laundry, laundry, laundry to do; girls' beds to be made; library books to sort
One of my favorite things … a Sunday date with my husband
A few plans for the rest of the week … get out Valentine decorations, watch Lost on Wednesday night, have family-friends over for dinner Saturday night (haven't seen them in about three years!)
Here are picture-thoughts I am sharing …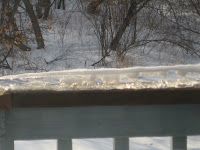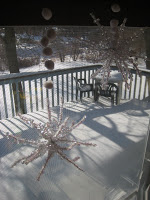 (I like how the sun is melting the snow/ice on our deck railing. Snowflakes hang from our patio door that my six-year-old and I made on a day when she was the only one home—a rare occurrence.)
To see more daybooks, visit this
blog
.