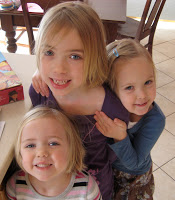 Celebrating the Everyday Blessings
Celebrating the Everyday Blessings
I haven't always been good at keeping record of the things my kids say or do. Yes, they each have a scrapbook and mementos, but I'm talking about the little things, the cute things, the daily things.
One of my goals of this new year is to get a little better at that. I am trying to be more present to the day-to-day things that happen at home—taking the camera or journal out to capture the ordinary moments that really are extraordinary because they are our life, our real life. It's great to capture the celebration of Christmas or a birthday, but I also want to remember to capture the celebration of the everyday, too. Writing this blog is actually helping me, I think …
Since this goal of mine was revealed to me through prayer, I think the Lord has given me an extra dose of awareness. Lately, I have just been so much more in tune with things that are going on around me, particularly with my family. Up until this point, I don't know that I had the capacity to have this gift, because I really was just surviving. That first year of twins was a blurry whirlwind! And before that, well, let's just say I felt like I was constantly in transition. But now, I find that I have been given new lenses with which to view my little corner of the world. And it's like seeing clearly almost for the first time.
Two moments of the past month really stand out to me … I think I would have noticed these things in the past, but I wouldn't have looked at them in the same way that I do now. I see these things as sort of "wow moments" not only for my children but also for me as a mom, as if they are little messages from God assuring me that I am doing a good job.
***
The sidewalks were particularly slippery this one winter morning. As we walked into
Good Shepherd
, my little girls slipped, and my four-year-old even fell. Tears came quickly after that. But she was brave and went into class without any problems. (Whew! I sighed.)
The girls were outside waiting for me when I pulled up after class. They were walking carefully back down the slippery sidewalk. Then, as if by protective insight or by example, my four-year-old reached out and took her little sister by the hand. To help her. To take care of her. I saw another little girl slip a little. Maybe my daughter saw this, too. Whatever made her reach out to help, it was good. And I delighted in my daughter's act of love.
Then, last week, my trio was playing exceptionally well together. Often, since there are three of them, one gets left out, or if they are tired, playing can turn to fighting. But no. This afternoon, it was bliss. They were sharing beautifully and even giving each other special toys—for keeps. I noticed this amazing generosity happening over and over again. I was taken back, and I finally complimented them.
"My you girls are playing nicely together," I said.
I inquired about whether this giving was really for good or just in the borrowing sense. And they clarified that it was for good.
"Wow! You are being very generous with each other," I said, wanting to praise this virtuous behavior I was witnessing. "That is so nice to see!"
Then, my six-year-old daughter replied, "Maybe some day we'll all be Little Sisters of the Poor."
"All three of you?" I joyfully asked.
"No, all four of us," she answered, including her smallest sister (one of the twins) in this plan.
I just beamed at what she said. The mere thought—that it was even an idea in her mind—made me so joyful.
"Oh, that would be wonderful," I said smiling.
***
I am grateful for these moments. They took place within a regular day—amid the regular playing, whining, fighting, eating, cleaning, reading and sleeping. They are everyday blessings. They make me stand in awe of my children. They also give me hope when so often I worry about whether I am doing enough as a mother for the sanctity of their souls. They are cause for celebration! Thanks be to God!