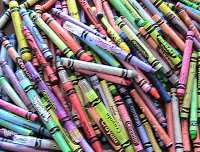 Stained-Glass Crayons
Stained-Glass Crayons
A week ago, my preschool daughter came home from school with a heart-shaped crayon. She told me she made it in class with broken crayon pieces. She thought it was the best thing ever and asked if we could make some at home. I had seen this idea in
The Preschooler's Busy Book
and had actually been saving broken crayons for years. But not being the craftiest mom on the block, I never did anything with them. Of course, she didn't know that I had been saving broken crayons, so without me knowing, she started peeling and breaking our perfectly-good crayons. Whoa! She was really serious about doing this project, and doing it NOW.
So, I searched and searched for those broken crayons, but do you think I could find them when I needed them? No … So, we dumped out our crayon bucket and sifted through to find any broken crayons. And this started the process of making our very own stained-glass crayons.
Here is our pile of crayons.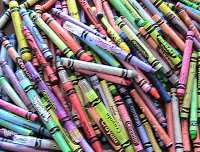 We peeled off all of the paper on the crayons and broke them into even smaller pieces.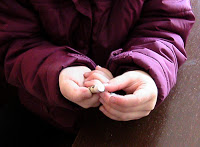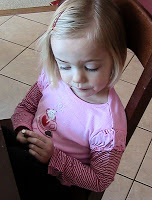 Here are our broken crayons.
Then, we put them into a mini-muffin tin sprayed with cooking spray. (I didn't have a cute heart-shaped one like the preschool teacher, but it would be cute to make them into valentine crayons to pass out. Next year, maybe?) We put like-colors together, but you could mix and match, too.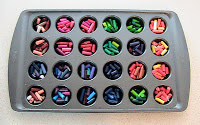 We put the muffin tin into a preheated 400-degree oven for a few minutes. (It doesn't take long for them to melt.) This is what they looked like, as they came out of the oven.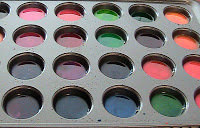 We placed them on the counter on a cooling rack until they cooled completely. Here is the master-mind behind this project waiting for her crayons to cool.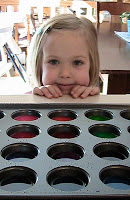 Here is the final result. The girls have been enjoying using these "new" crayons for all their coloring pages.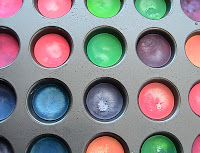 I always get a bit nervous when we start a craft project, because I never know what's going to happen. Will someone not be interested? Will it be too hard, thus three girls demanding a lot of help from me all at the same time? Ahhh! What about the littler ones; what will they be doing while we are crafting? We are finally getting into the ages where crafts are more fun for all (and less work for mom), and I am excited about that. Hopefully, this will help me relax a bit more when it comes to crafts.
This one, I would say, was a success. (Yeah! A boost of confidence for Mom =) It was easy—even my 3-year-old could help peel the paper, sort the colors and then color a picture herself with her new crayons. And it was a little lesson in reusing what we have, too, which is always a good thing.