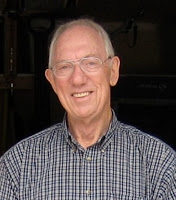 In Memory of Russ
In Memory of Russ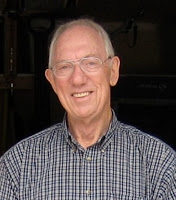 Russ
November 3, 1936~February 25, 2009
Garage-shelf building • Helping me cook my first Christmas turkey • Crossword puzzles • Microwave installations • Fish fries • Previously on Lost …
These are little things that will forever remind me and my husband of Russ, especially during the summer months when he and my mom stayed with us.
Russ really was a magical guy. He had a unique charisma about him—he had a booming voice; he was a great story-teller; he loved to laugh and sing; he was an amiable, simple man without a lot of nonsense interfering with our ability to know him well. He made everyone feel welcome, accepted and loved.
I see that in him so easily now, but let me tell you, when he first came into my life, while he was getting to know my mom, I was a tough client. I was worse than a protective parent; I was a protective daughter!
Oh, how Russ was patient with me! He never tried to impress me. He waited until I was ready to get to know him and become his friend. That was truly a witness to me, for isn't that how the Lord is with each of us? Jesus doesn't pressure us to follow Him. No, Jesus quietly, patiently whispers our name, and the second we finally turn to Him, He is ready and waiting to embrace us and welcome us into His glorious life. That's how Russ was with me, and boy did he finally win me over! So much so that I was honored to have him join my mom in walking me down the aisle on my wedding day.
My husband recently shared with me how grateful he was to spend so much time with Russ doing different projects around the house. Russ was a very talented carpenter, and Greg shares that interest, too. Greg thought of Russ as a dad in this area, as he learned many things working along side him.
We are going to miss the fun times we had with Mom and Russ … We had a lot of plans for the future, and it will be strange to modify those plans for a future without Russ. We certainly will feel the void, and it won't be the same without him.
I am grateful for the past 13 years with Russ in my life and for the more recent memories with him sharing life with me, my husband and our five children. I also am grateful for the past five days I spent with my mom, just being with her; getting things ready for Russ' memorial Mass; and truly feeling Russ' presence in their home, through meeting so many of their friends, and looking through lots and lots of photos.
On February 20, doctors told Russ that he would have one to two months to live. He lived only five days after that, passing from this world on Ash Wednesday. Within those five days, Russ received the Sacraments of Reconciliation, Eucharist and Anointing of the Sick; was prayed over by 25 men from his Emmaus retreat group; was blessed with holy water from Fatima; had many other visitors, including his two children; received ashes with the priest saying, "Remember, o man, that you are dust and to dust you shall return"; and in the end was surrounded by family and friends praying with him. As he told his pastor, "I am at peace. I am ready."
I didn't get to say "goodbye" to Russ in person, but our last conversation over the phone went something like this:
Me: "I'm so sorry, Russ. I love you."
Russ: "I'll be alright. I'm just going to beat everyone There."
Me: "I know. You just get there and then start helping prepare our spots in Heaven, too, OK?"
With that, we were both crying and couldn't talk anymore … But I know that when he does reach Heaven that's exactly what he'll do (if that's how it works =)
Thank God for faith—faith in eternal life; faith that one day we will see Russ' smiling face again. And he will be so happy to welcome us Home to be with Jesus, Mary, and all the saints and angels in God's heavenly Kingdom.
I love you, Russ—so do Greg and the kids! We're going to miss you …