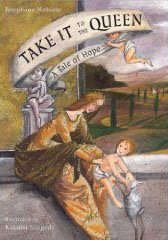 Have You Read This Book Yet?
Have You Read This Book Yet?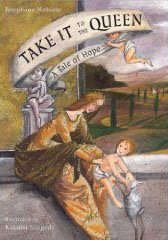 Take It to the Queen by Josephine Nobisso is an absolutely beautiful story! We happened to find it at our library (surprise!), but it now is on my wish list at amazon.com.
It is an allegory of the role Our Blessed Mother plays in salvation history. The story, on its own, is delightful, but the theological symbols that are woven throughout make the tale that much more rich and meaningful. (A great explanation of all the theological insight into this book can be found
here
. I just found this, so now I want to reread the book with this list in hand, as I'm sure there is so much I missed!)
Every time I read Take It to the Queen with my trio, I feel overwhelmed with awe and gratitude for God's divine gift of Mary to us as Jesus' mother and also as our mother, our queen. My children are a bit young to understand the depth of this book, but they do understand how the queen in the tale is like Mary. On the simplest level, how we ask Mary to pray for us, just as the villagers ask the queen to intercede for them. This story will indeed grow with the kids as they grow in their understanding of our Catholic faith.
In addition to a beautiful story, the illustrations by Katalin Szegedi are gorgeous. It simply is a lovely book to look at, as my pre-reading girls enjoy doing.
If you haven't had the opportunity to read this book, I encourage you to do so. It would make a wonderful First Communion or birthday gift, or as something special to place on a Mary altar come May.
***
Remember, O most gracious Virgin Mary, that never was it known that anyone who fled to thy protection, implored thy help, or sought thine intercession was left unaided.
Inspired by this confidence, I fly unto thee, O Virgin of virgins, my mother; to thee I come, before thee I stand, sinful and sorrowful. O Mother of the Word Incarnate, despise not my petitions, but in thy mercy hear and answer me. Amen.