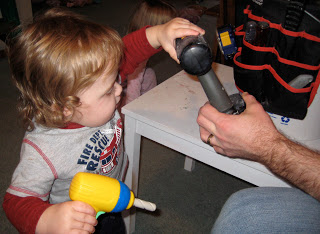 Daddy's Little Helper
Daddy's Little Helper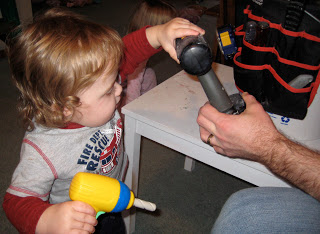 He lingered below the ladder, next to the table where my husband's tool bucket sat. He took the screw drivers out of their little slots and put them back again. He did this over and over and over.
He's a quiet little guy, not nearly as chatty as his twin sister. But the babble that does come from his tiny lips lets you know he's there and interested. He made enough noise to let my husband know his little helper was present, ready to assist if he needed him. My husband, of course, acknowledged his son's help with joy, if nothing else but to keep him company while the girls of the family scattered to find other things to do.
As my husband finished putting up the new light in the playroom, the little guy returned after being gone but a moment. He returned with his pretend electric drill in hand, holding it up to Daddy to show him that he's ready, willing and able.
To our amazement, he had made a connection. From his pretend tools to the real ones. A connection. And in that connection, he created a new bond with my husband that I'm sure is just the start of something bigger. My husband beamed with pride at his son, his little helper.