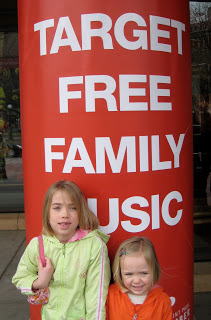 Saturday Excursion
Saturday Excursion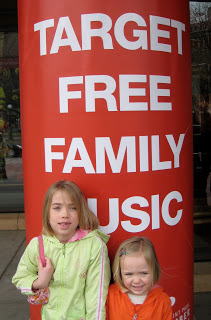 The trio and I had the enjoyable opportunity of attending
Story Time with the St. Paul Chamber Orchestra
late Saturday morning. It took place at the Ordway Center of Performing Arts and was sponsored by a program called
Target Free Family Music
. Tickets to these family-friendly events are distributed through a random drawing, and we just happened to be the lucky recipients of four free tickets to Saturday's concert.
The concert was Sergei Prokofiev's Peter and the Wolf, Op. 67. A narration titled Sneaky Pete and the Wolf accompanied the music.
It was a delightful performance, and the girls enjoyed getting dressed up (a little) and attending the downtown theatre. We learned a bit about the instruments beforehand and how certain ones were used to express what was going on in the story. For example, they did a nice job explaining what the theme of the music was—the part that was repeated throughout by the violin section. And how the flute part signified butterflies in Pete's stomach =) The flutist even wore butterfly wings! The horns indicated the wolf.
Afterward, I treated them to lunch at Noodles & Co.
Indeed, it was a delightful Saturday excursion with my little women.