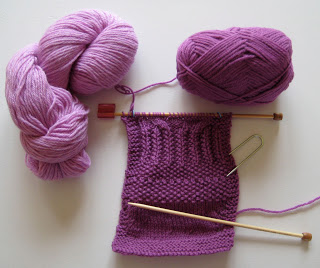 Knit One, Purl One …
Knit One, Purl One …
For my birthday, my husband and children gave me knitting lessons at the adorable needle arts store not far from our home. The beginning class, consisting of five sessions, teaches basic knitting skills and a variety of stitches. The end result is a sampler scarf that displays the various stitches taught and also the notion of how to change colors in the middle of a project.
Here are a few photos of the progress I have made on my scarf, after three out of five classes.
I chose purple yarn, because this scarf is for my almost-five-year-old daughter. Although she changes her favorite color as often as she changes her socks, purple is well-liked by her, and just about any little girl, so I knew it would be safe.
Here is a photo of the scarf after three weeks, along with the two shades of purple yarn, my bamboo knitting needles and my cable needle.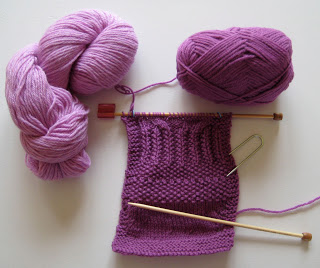 At the first class, we practiced casting on, which for some reason I found difficult. It took me forever to get the hang of it, and I am not sure I will be able to do it with ease when I start my next project. Maybe it's because I have never had much practice with knots. I don't know …
We then made an eight-row Garter Stitch, followed by a 16-row Stockinette Stitch. This is when I learned how to purl. (I already knew how to knit from
previous lessons
I took.)
When I went to do my homework, I didn't remember that to purl I had to move my yarn to the front of my work and to knit I had to keep my yarn at the back. I tried to reference my
How to Knit
book, but this concept made no sense to me, so I ignored it. For the most part, my stitches ended up OK, but because there is a Garter Stitch border around the entire scarf, there remains a big hole on one side of my Stockinette patch, because I failed to move my yarn to the front. Oh well! Of course, the perfectionist in me can't stand this, but I keep telling myself to relax and enjoy this new hobby rather than insist on being perfect at it. Where's the fun in that?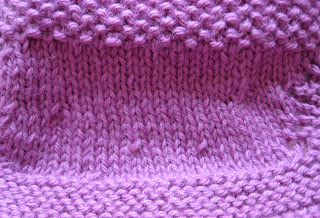 At the second class, I learned that my stitches were too tight and that I needed to loosen up when I knitted. Of course I wasn't intending for them to be tight, but I tried to figure out how I was doing this and correct the problem. At the second class, we learned the Seed Stitch, which is knit one, purl one, knit one, purl one … You can see this stitch at the very bottom of the photo below, and at the very top of the photo above.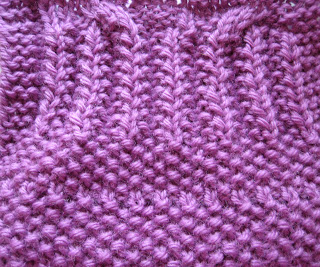 At my third class, I was informed that I had loosened up my stitches very nicely. Yeah!! Also at this class, we learned another stitch called the Mistake Stitch Ribbing (above photo, see the ribbing lines). With this stitch, we had to learn how to add a stitch at the beginning and remove it at the end of the section. I don't think I could add a stitch (intentionally =) on my own again, I'd need help; but I found it rather easy to decrease the stitch at the end. After we worked on this stitch for most of the class, we were instructed on how to make a Braid Cable Pattern, using a cable needle. I didn't get very far with this in class, so it will be my homework this week to complete this section before next week. But you can see the beginning of my cables in the photo below.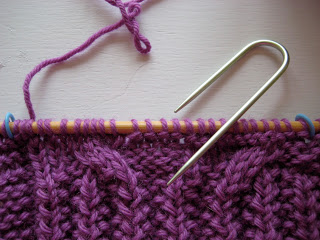 Next week, we will learn an Eyelet Ridge Pattern and then how to change colors. Once we get through all of this, we basically will do it all again in reverse order to finish the scarf. I plan on making this scarf a few times to get in some good practice.
The advanced knitters that are in the store when we are taking our class always comment on how quiet we are. And us beginners have concluded that we simply haven't learned how to talk and knit at the same time yet. We can't possibly figure out how to count stitches and gab and not loose track of what we're doing, but I guess that will come with practice, too.
Stay tuned for another progress report in a couple weeks!
Happy Thursday!