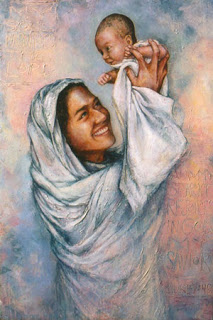 My Soul Magnifies the Lord
My Soul Magnifies the Lord
Today, I am joining in JMJ's invitation to post something about Mary during this beautiful month of May, which is devoted to her.
This is one of my favorite images of Mary. It is by artist
Christopher Santer
. It is not a classical or traditional image of Mary. But it is one that, I think, captures the joy she has in her Son. How much delight He must have given her as a baby, growing up and during His public ministry! I think about those scenes from
The Passion
that flashback to Jesus and Mary goofing around and laughing together. How beautiful their relationship must have been—and continues to be, of course!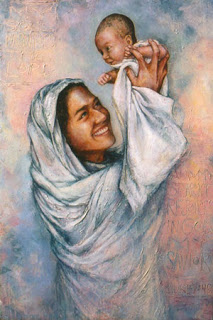 My soul magnifies the Lord, and my spirit rejoices in God my Savior, for He has regarded the low estate of His handmaiden. For behold henceforth all generations will call me blessed: for He who is mighty has done great for me, and holy is His name. And His mercy is on those who fear Him from generation to generation. He has shown strength with His arm, He has scattered the proud in the imagination of their hearts, He has put down the mighty from their thrones, and exalted those of low degree; He has filled the hungry with good things, and the rich He has sent empty away. He has helped His servant Israel, in remembrance of His mercy, as He spoke to our fathers, to Abraham and to His posterity forever.
— Luke 1:46-55