7 Quick Takes Friday—Volume 2
7 Quick Takes Friday—Volume 2
1. We threw a fun 5th birthday party for a special girl last Saturday. It was a fun time of crafting, playing games, eating cupcakes and screaming with excitement as only little girls can do.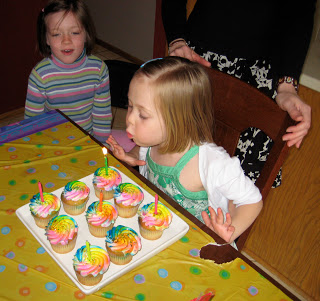 2. Mother's Day was delightful. My husband and the trio recorded little messages like, "Hip, hip, hooray! Happy Mother's Day!" and "Mom, I love you." Then, my husband converted them so he could download them into my iPod and put photos of the kids with the messages. What a treasure!
~~~~~~
3. We are slowly recovering from the fact that the people who were going to buy our house decided not to go forward after the inspection. It's hard not to take personally, and we certainly feel disappointed. But God has another plan in mind. We trust in that and will wait upon Him.
~~~~~~
4. I'm making progress on my scarf. Here are some updated photos. I finished the cables. Then, I learned how to create some eyelet lace and change colors. I will be doing a stripe of about 100 rows, alternating colors every 10 rows or so. Then, I will do the pattern in reverse order to complete the scarf.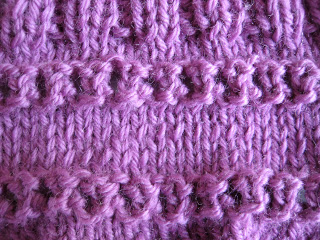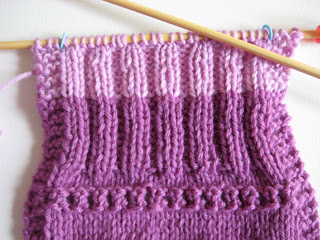 5. The twins will be 18 months next week. In a way, I can't believe it. It's gone by fast, but I guess since the first 6 months were a complete blur, I'm really only looking back on about a year's worth of time =)
~~~~~~
6. On another twin note, where did all these curls come from? My only boy has the most hair and the curliest hair out of all my girls. Go figure! I think it might be time to get it cut, but I just don't want to say goodbye to those curls. Perhaps just a trim.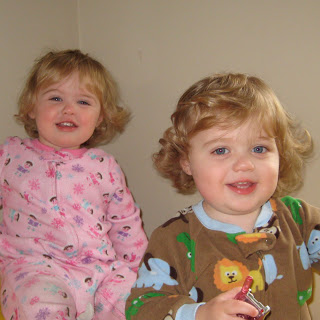 ~~~~~~
7. Last, but certainly not least … Something for Mary. A Knitting Madonna by Meister Bertram von Minden (1345-1415). It seemed fitting for today's quick takes, since knitting is on my mind, and I hope to get a bit done over the weekend!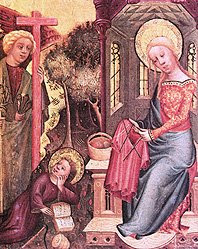 Happy Friday, and may God bless your weekend!
For more quick takes, visit
here
.