Double Trouble
Double Trouble
I went downstairs briefly this morning to take some meat out of the freezer for dinner and to reply to an e-mail about picnic plans that we have later this week with some friends. When I returned upstairs, this is the scene I came back to … An entire big box of Cheerios dumped on the living room floor.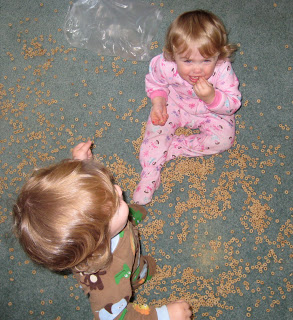 Double trouble. That is what I have on my hands these days. The twins are into everything. It's not one toddler getting into everything, like
Tupperware cupboards
and
markers
. It's two toddlers undoing all of my attempts at keeping order in this house. And it's not just my regular homemaker duties that they are undoing. It's the tireless work of trying to keep this house in excellent shape in case we have a showing. (Remember? We're trying to sell our house.)
It's hard to get mad at them, even though my husband has affectionately nicknamed them "the naughts," short for naughty. They find everything to be so much fun! Even when I was picking up the Cheerios, my laughing son continued to pick up handfuls and throw them about, while girl just sat there eating to her heart's (or tummy's) content.
BTW, what is it with boys and throwing anything and everything? This is so new to me …
Anyway, this is one messy stage we're in, and the timing couldn't be worse with selling a house. Oh well. The Lord is good. He never gives us anything we cannot handle (or learn to handle) even when we would like to think otherwise. At times, I'm sure He looks upon our family life and can't help but chuckle to Himself. And that thought makes me smile. And so do my double-trouble twins saying, "Uh! Oh! Uh! Oh!" as I walked in on them having a blast with the Cheerios.
At least I got the living room vacuumed today …