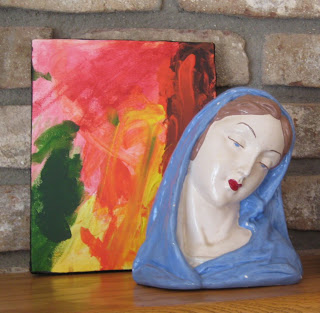 Something About Mary
Something About Mary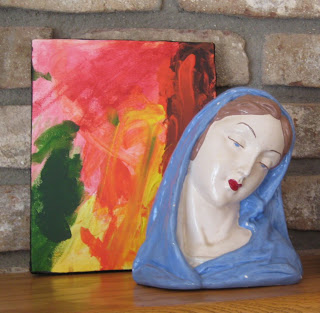 This statue of Mary is one of my favorite possessions. It was given to me several years ago by my godmother. Her godmother, who was also her grandmother and my great-grandmother, gave it to her. I do not remember how much farther back this heirloom goes, and when I tried to search for the letter explaining the details, well, I couldn't find it. I know it's somewhere, but in the moving process, things like treasured letters are all packed away for now.
(The artwork behind the statue was created by my trio and husband last Mother's Day. I love it. It's another favorite possession of mine. Those things in our homes that truly have meaning. They're beyond decorations. They're treasures. They represent who we are and where we came from …)
A few more random thoughts about Mary, things that simply "hit" me over the past couple weeks:
We have a beautiful full-length statue of Mary in our adoration chapel at church. It always inspires me to see the kneeler in front of her and the perpetual flowers at her feet. This month, our pastor moved her into our main sanctuary. We have an olive wood statue of Mary off to the side of the church, but we don't have an alcove at the front that would be considered a Mary altar. I was delighted to see her in the main church with a crown of flowers on her head and beautiful, pink hydrangeas at her feet.
Our nephew was baptized last Saturday, and I was very impressed with Father's comments at the closing about dedicating our children to the Blessed Mother. We sang "Hail Holy Queen" in honor of her, and it was just very beautiful.
Afterward, I was amazed to hear my husband's desire to increase our devotion to Mary as a family. We didn't talk specifics, but that it is on his heart makes me swell with pride. I wanted to have a Mary altar in our home this month, but with trying to show our house, I knew this wouldn't be possible. Plus, I just know those "naughts" would have a field day pulling everything down. Next year …
Well, I hope you don't mind my random thoughts for today. Nothing too profound. Just a few things that have been on my mind and heart this month of May.
Next week, my daughter's school will celebrate with a May Crowning to honor Our Lady and to close the school year. We are very much looking forward to this highlight of the year.
Have a lovely Memorial Day weekend. Holy Mary, Mother of God, pray for us, and please pray for our country. Amen.