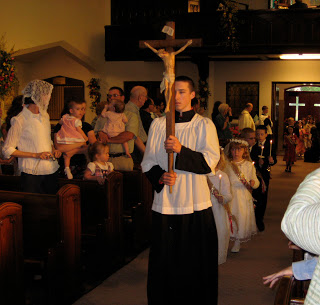 May Crowning
May Crowning
My daughter's Kindergarten year ended last evening with a beautiful May Crowning, which is the annual highlight of this Catholic school's academic year. It was a moving and prayerful evening, as my husband and I watched in awe the precious students honor the Blessed Mother with love, purity and reverence.
The May Crowning included a student pledge to Our Lady that they would continue their daily prayers, act charitably and uphold modesty throughout the summer months.
We recited the five Glorious mysteries of the Rosary in the presence of the Blessed Sacrament and participated in Benediction of the Blessed Sacrament as well. Songs to honor Mary were sung, and a final blessing of each individual student by Father ended this evening of prayer.
Here are some photos of the May Crowning.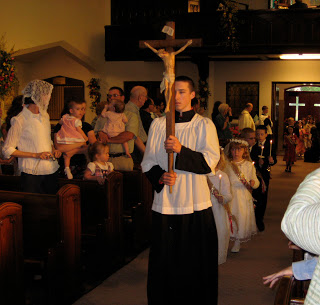 Procession.
My daughter (middle) processing in with flowers and a candle for Mary.
Placing flowers in a vase for Mary.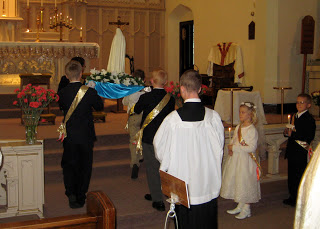 Carrying the Queen of All Saints into the church. The older boys who had this task did so with serious reverence and pride. And even though they are not my sons, I was most proud of them. Actually, all of the students were so reverent, making perfect genuflections and remaining so prayerful throughout the entire ceremony.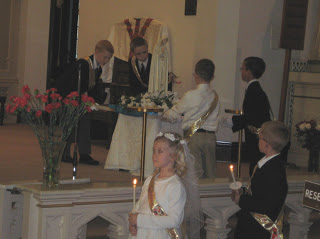 Placing Mary on her "throne."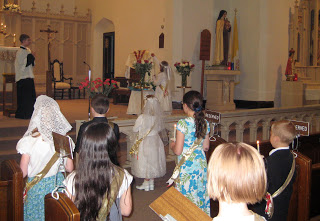 Just after the fourth mystery (Assumption) and before the fifth mystery (Coronation), this year's first communicants had the honor of crowning Our Lady and placing a delicate Rosary in her hands. During this, the rest of the students lined the center aisle with their candles glowing. We all sang "Hail Holy Queen."
During his short homily, Father talked about why we honor the Blessed Mother with a Crowning, and I thought his words were very beneficial.
First, he talked about St. Paul's Letter to the Romans, where he writes, "… [give] respect to whom respect is due, honor to whom honor is due" (13:7). The ascent of Mary to be the Mother of God was freely given. Therefore, she gave us Christ. She gave us the greatest gift and therefore is the greatest benefactress to the human race, and so she is most deserving of our devotion and honor.
Next, he referred to the Book of James, which states that fervent prayer of a righteous man avails much. The more holy the person, the more powerful her prayer. Because Mary is the most holy of all humans, her prayer is most likely and worthy to be heard. Therefore, we must go to her for her intercession of our imperfect prayers.
Indeed, this was a perfect ending to a wonderful school year. I cannot believe summer vacation has officially begun in our home. And I now officially have a first grader and kindergartener! Oh, and my almost-four-year-old is begging me to send her to preschool in the fall. We will see what happens with moving, but I think she will receive her wish =)
Enjoy this last weekend in May! It's not too late to continue our honoring of Our Blessed Mother. I am grateful for the other bloggers who posted so often about Mary this month. It truly nourished my soul, so thank you! God bless!