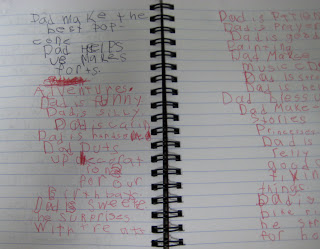 A BIG celebration!
A BIG celebration!
Today is an extra-special, celebratory day in our home!
It's the First Day of Summer! Hooray!
It's Father's Day! Yeah!
And it's my husband's 36th birthday! Whoo-hoo!
Yes, we indeed have a lot to celebrate and be thankful for today in this good man, fine husband and wonderful father!
The trio and I thought it would be fun to come up with the top 36 things we love about him. We made a big heart card and wrote all of them on it and then decorated it.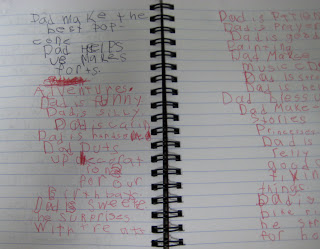 This is one (of many) of my 6-year-old's journals. She was in charge of writing out our list during our brainstorming sessions. But when the time came to make the card, she didn't want to take the list out of her journal. She said she wanted to save it, so that when she was all grown up she could look back and remember what we made for Dad on his 36th birthday, which also was on Father's Day!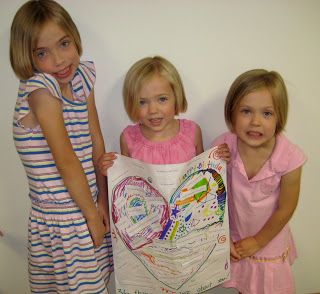 So, I borrowed her journal and typed out our list. Meanwhile, the girls decorated the heart. Then, we cut the list up into 36 slips of paper and glued them onto the heart. We hid the BIG card in Grandma's room for safe-keeping =)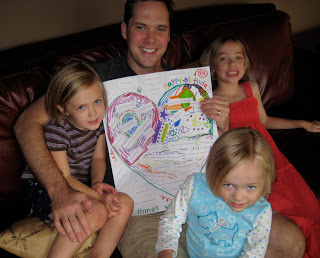 Presenting the card and other gifts to Dad on his extra-special day.
Here is our list, in no particular order.
1. He plays outside with me.
2. He plays games with me.
3. He leads us in family prayer.
4. He is funny.
5. He works really hard.
6. He provides for us so that I can stay at home with the kids.
7. He is the best.
8. He let's us play games on his iPhone.
9. We do projects together, like change the doorknob.
10. He makes up nicknames for us.
11. Dad makes the best popcorn.
12. He helps us build forts.
13. He is a star.
14. He takes us on adventures.
15. Dad is funny.
16. Dad is silly.
17. Dad is caring.
18. Dad is handsome.
19. He puts up decorations for our birthdays. (He is the streamer guy in our house!)
20. Dad is sweet.
21. He surprises us with treats.
22. Dad is patient.
23. Dad is prayerful.
24. Dad is good at painting.
25. Dad makes us music CDs of our favorite songs.
26. He is strong.
27. Dad is helpful.
28. Dad blesses us at night.
29. He makes up stories for us about three princesses.
30. Dad is really good at fixing things.
31. Dad is smart.
32. He takes us on bike rides.
33. He strives for holiness.
34. He writes us poems on our birthdays.
35. He leaves me love notes.
36. He loves us very, very much.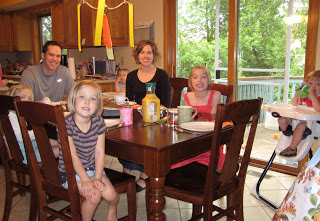 Here's our birthday/Father's Day brunch. Dad picked the menu, of course—French toast, eggs, bacon and sausage! Scrumptious!!
I write so many posts about faith, the kids, my interests, my projects. And behind each of them is a silent supporter in my vocation as wife and mother. And so, he, from time to time his worthy of his own post, too, right?!
So, here's to you, Greg! Happy Birthday, and Happy Father's Day, too! I love you. And you know how much those kids of ours love you, too.