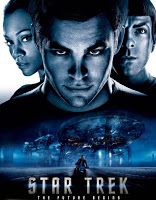 OK. I liked it.
OK. I liked it.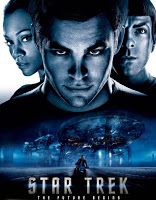 I took my husband to see Star Trek for his birthday. It was his pick, of course, and I was going along because it was part of his gift. I didn't care if I would like the movie or not, nor was I expecting to like it. I was happy to go just for him.
But I did like the movie. I liked it a lot. And my husband was very kind not to say, "I told you so."
I've never seen any of the Star Trek series or former movies. I've never been interested. And I never thought I would be. However, I was interested in this particular movie version. I thought it was great!
Maybe it was because it was created to reach a wider audience. Maybe it was because J.J. Abrams, director of Lost, also directed it. (I am a big Lost fan.) Who knows. All I know is that it was a fun film.
I was impressed with the casting, especially the actor who played Spock. He portrayed a perfect younger Spock. I also thought the storyline was interesting, and of course, there was plenty of action (but not too much for folks like me who typically don't like action or sci-fi flicks).
BTW, for not ever being interested in Star Trek, a lot of it certainly was familiar to me. I knew Spock and Captain Kirk. I've heard the expression "beam me up, Scotty" a billion times. And of course the hand gesture. It must be so much a part of our culture that even us non-trekkys know plenty about this ever-popular media phenomenon. Anyway, I just found that interesting …
Well, that's all. Just thought I'd pass on this recommendation, especially to those who may normally pass it by.
Happy Weekend! Live long and prosper! 😉