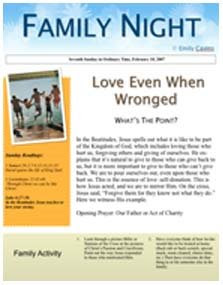 Family Night
Family Night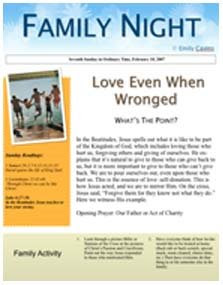 Renowned Bible scholar, Jeff Cavins, and his wife Emily have put together a fabulous resource for families. It's called
Family Night
. Each week, they post a weekly devotion on
this blog
that provides a way to spend time together as a family, while studying the upcoming Sunday scriptures together in preparation for Mass.
I just discovered this, so I haven't actually used it with my family yet, but I'm excited to give it a try. I do think some of my kids will be too little, but it's all about planting seeds, right?
A few years ago, my husband and I went through Jeff's
Great Adventure Bible Timeline
at our parish. The program is amazing! We learned so much about Scripture and how it ties into our faith, the Mass, our lives. I'd love to go through it again sometime, as there's just so much … I believe the Great Adventure is available at parishes all over the country, so I highly recommend checking it out, if you have the chance. Click
here
to find one close to you.
Also, there are now versions for
kids
and
teens
. I am very excited to begin the kids series with mine this fall.

Then they said to each other, "Were not our hearts burning within us while he spoke to us on the way and opened the scriptures to us?"
—Luke 24:32