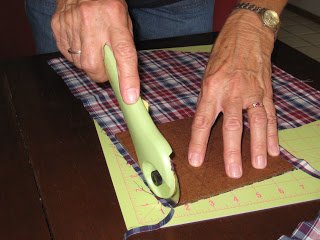 Hip to Be Square
Hip to Be Square
I used to love that song by Huey Lewis and the News. I was 10, and I thought it was such a catchy tune. I never knew any of the lyrics back then, just the chorus. (Can you see me bobbing around repeating that one line over and over again?!) But I recently looked the lyrics up just for fun, and I thought, "What???" Don't worry, they're not bad or anything. But I don't think they're very hip either. (LOL) Kind of dumb, which we don't say in our house, but I couldn't think of a better word! I guess I'll just stick to enjoying the tune …
The squares that are really hip, though, are these that my mom and I are cutting out for our quilt(s)!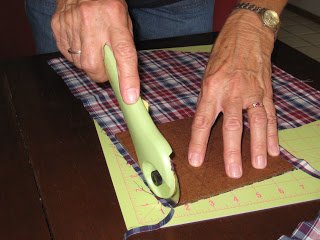 Mom's hands.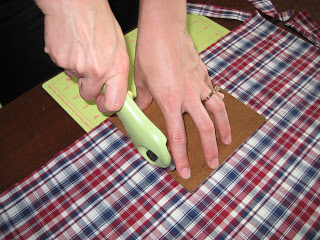 My hands.
My mom has made quilts before. She made one with my grandma out of my baby and girlhood dresses. It is one of my most cherished possessions. When she made it with Grandma, rotary cutters weren't around (or maybe they just didn't have one; I don't know). They cut each square with a scissors! So, when we were getting ready for our project, I told her we had to get one. And she's just amazed at how quickly we're able to cut out the squares!
The square ruler we're using was made by my grandfather for my grandma's sewing projects. Neat, huh?! I just love those things that were touched by someone so dear but who has been gone for so long. It makes me feel connected and close to him—and to my grandmother, too—once again.