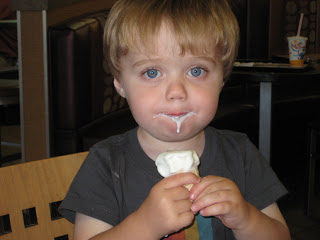 The Simple Woman's Daybook
The Simple Woman's Daybook
For today … Sunday, August 30, 2009
Outside my window … crisp and cool. It feels like fall. I don't mind too much, as it's my favorite season.
I am thinking … about our fall schedule. I'm trying not to plan things out too much, but at the same time I want to keep things running smoothly. Instead of the term schedule, I recently read one woman use the phrase daily rhythm, and I like that concept a lot. It seems less rigid than schedule. So, I'm going to try and think of our routines in this way and see if it helps maintain a better balance.
I am thankful for … a blessed summer with my husband, children and mother
From the kitchen … I made a list of breads and muffins that I want to bake and freeze for school lunches and snacks. I also am going to give some recipes in this cookbook a try.
I am wearing … a black long-sleeved tee and navy blue crinkled skirt
I am reading … Lifeline and Led by Faith
I am hoping … for a successful week of transition. This will be our practice week—getting up earlier in the morning, going to bed earlier in the evening, etc.—before we jump into the new school year next Tuesday.
I am creating … some preschool lesson plans. I'm using the Little Saints program as a start, but I want to incorporate letters and numbers, too. I am trying not to take this preschool stuff too seriously. (It's only preschool, after all!) But I do feel responsible for preparing her, even a little bit, for Kindergarten. Plus, I want to make this time special for her. Any advice from you homeschooling moms would be welcome here =) How did you keep it simple and doable, as you started out? How did you get over the feeling that you had to include it all? (Or am I the only one who feels that way?)
I am hearing … kids upstairs making Lego creations with their dad
Around the house … things are pretty clean and in fairly good order. This week, I will try out a new cleaning and laundry routine I put together, to avoid feeling overwhelmed.
One of my favorite things … a fresh start. That's the sense I get with the approaching fall season. Back to school. A new daily rhythm. Sharpened pencils. Blank notebooks (for mom, too =)
A few plans for the rest of the week … Continue to work on our family's new daily rhythm and my preschool lesson plans. Host a contest with the kids: keep up with their regular chores, practice getting ready for school in the mornings, no (or at least little) complaining. And the prize is this!
Here is a picture-thought I am sharing with you …
I scream. You scream. We all scream for ice cream!
For more daybooks, visit
here
.