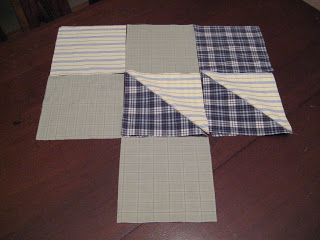 Quilt Update
Quilt Update
Mom and I continued to cut squares out of Russ' shirts, before she headed back to Florida last week. We decided to get all the shirts cut into squares, before we started laying them out to create a quilt pattern.
But I couldn't resist … I insisted that we play around with it a bit … and it was so exciting to instantly get a glimpse of what the quilts will look like!
We are going to try and make three quilts out of the shirts—for my mom, for me (and my family, of course =), and for Russ' daughter. I think we will have plenty of squares to do this, since we will make them to be *throw* size quilts.
That's as far as we got this summer … Mom took the material home with her, and she will continue cutting squares and playing around with the patterns. She's the one with the sewing machine, too, so I think she may go ahead and complete hers during tho long winter months in Florida. (lol) She will set my squares aside, so we can make mine together next summer …
I was hoping to be further along at this point, but projects always take longer than you originally think they would, especially when you're a novice. It also was a busy summer, and we could only get in so much crafty time. Besides, there really isn't a timeline we have to follow for these quilts anyway. Perhaps it's kind of neat that it's an ongoing project …
So, please stay tuned … even if it will be a year from now before I post about this quilt project again!