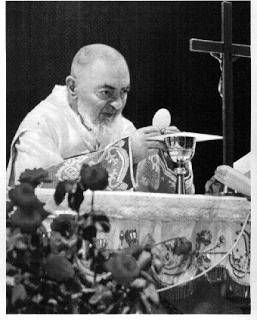 A Hymn of Thanksgiving
A Hymn of Thanksgiving
The center of the spiritual life of Padre Pio was the Eucharistic Jesus. His devotion polarized around the tabernacle. Jesus, the Word Incarnate, was not distant in time and space to Padre Pio, but very close to him, living with him under the same roof, hidden under the eucharistic Species. Hour by hour, day and night, he would linger in conversation with the Divine Inhabitant of the tabernacle.
When asked where he could be found if he was not in his cell or in the confessional, he answered: "Come and look for me in the choir, in the presence of Jesus in the Blessed Sacrament."The sleepless nights, spent in prayer, were a preparation for Mass and union with Christ in Holy Communion. The days, lived in prayer, in the confessional, in his priestly ministry, were a hymn of thanksgiving. His thoughts, his looks, his sighs, were always for Jesus in the Blessed Sacrament, from whom he could not separate himself without suffering, as if attracted by a powerful magnet.—Padre Alberto D'Apolito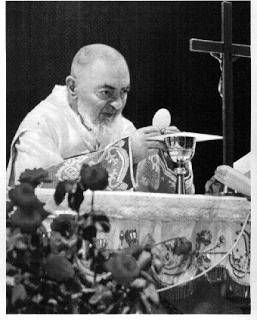 St. Pio of Pietrelcina (Padre Pio)
Feast Day :: September 23
1887~1968
Every Holy Mass, heard with devotion, produces in our souls marvelous effects, abundant spiritual and material graces which we, ourselves, do not know … It is easier for the earth to exist without the sun than without the Holy Sacrifice of the Mass! (St. Pio)
Here are two wonderful
coloring pages
for our children to do today. I wish there wasn't a long wait for
this
movie at blockbuster.com. Maybe it means that so many people are renting it. That would be good. But I was hoping to watch it this evening with my husband. Perhaps it's a sign that I should just purchase my own copy … Here are
two
cappuccino
recipes that would make great desserts for tonight … I will remember them for
next year
, as I don't have the ingredients handy to make them right now.
Anyway, the most important thing we can do today is ask this holy saint to pray for us. That we, ourselves, may grow in holiness. That we may gain a little bit of wisdom and insight from him that will bring us closer to Our Lord, Jesus Christ.
St. Padre Pio, ora pro nobis!