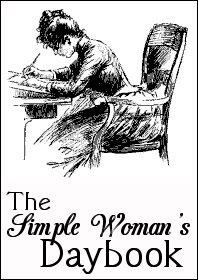 The Simple Woman's Daybook—September 28
The Simple Woman's Daybook—September 28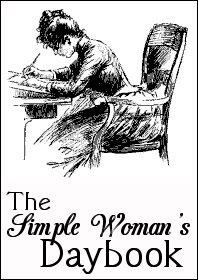 For today … Monday, September 28, 2009
Outside my window … crisp and cool. It finally feels like fall. We've had a very warm, dry September. I am excited to finally wear jeans and sweaters!
I am thinking … about the Catholic women's conference I attended on Saturday. Kimberly Hahn was the keynote speaker. She gave her conversion story, and she also talked about sharing God's love in all walks of life and living out the reality of being daughters of the King. She was amazing! She signed my book, too =) There also were breakout sessions, and one was by the author of this book. She gave a fantastic presentation about Eucharistic Adoration as well as the dignity of women … Actually, three out of the five speakers mentioned Pope John Paul II's encyclical, Mulieris Dignitatem. I do not think that was coincidental. I think I will be adding it to my reading list soon … or maybe now! I am still reflecting on all of the amazing information I received at this conference. I think I will be for awhile. It was such an uplifting, encouraging and challenging (in a good way) day!
I am thankful for … a day out, to be with 280+ other Catholic women, to grow in our Catholic faith together!
From the kitchen … I went grocery shopping, and my meals are planned. I am making tweaks to my fall menus to fit the realities of life. I made pumpkin bread and a fallish snack-mix last week, and I've had requests to make both again. Soon.
I am wearing … jeans and a cowl-neck sweatshirt
I am hoping … to apply some of the wonderful nuggets of wisdom I received this weekend into my real life
I am creating … a pink scarf
I am hearing … the humming of the computer and the clicking of keys. All's quiet in our house—at the moment.
Around the house … things tend to get messier over the weekend. Plus, I wasn't here all day Saturday. It's not bad, but I will probably spend some time today tidying up. And starting the laundry routine all over again.
One of my favorite things … fall. It's my favorite season. Colorful leaves; pumpkins; apple picking; sweaters and jeans; apple cider; fires in the fireplace; pumpkin bread; candy corn; my anniversary. It's the best!
A few plans for the rest of the week … Irish dance lessons; feast of St. Michael the Archangel; Bible study; a liturgical tea in honor of the feast of St. Therese; apple picking
Here is a picture-thought I am sharing with you …
From the archives … This was last fall. In our backyard. Yes, we had a pumpkin patch. It was great! Every child in the neighborhood got a pumpkin from our patch last year—We harvested more than 20! We have grass now, which is probably better, especially when you're trying to sell your house, but having a pumpkin patch was a fabulous experience for our family.
For more daybooks, visit
here
.