Pajama Party with St. Therese
Pajama Party with St. Therese
This week was all about flexibility. With so many things. So, rather than hosting a
liturgical tea
on the feast of St. Therese of Lisieux, my trio and I had a pajama party in her honor instead (a day late =)
They *loved* the idea, though, and the timing couldn't have been more right, because we didn't get things going until after those silly little twins went to bed. So, it was just "the girls," and we talked about how much fun Therese and her sisters must have had growing up. How maybe they talked at night in their rooms before bedtime, or how maybe they helped bake special desserts for various family celebrations …
We started out by reading a little story about St. Therese. I had to go to the Catholic bookstore to buy
this
book again, because our original copy was no where to be found. [It was very worn (well-loved) anyway, after my oldest insisted upon sleeping with it, and a crucifix, for over a year when she was around three or four years old.]
Then, we colored
these
pages (me, too =)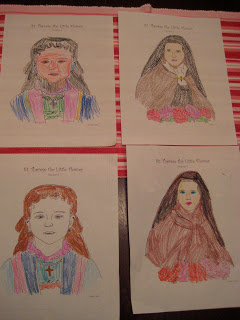 We had our teatime fare, I mean pajama party treats! We made
easy mini eclairs
and rosy (pink) lemonade.
Then, each girl made their own sacrifice beads, and we talked about how Therese used something similar when she was a girl to keep track of the little things she did for God each day. It was a very fun project—and easy, too! I ordered the kits
here
.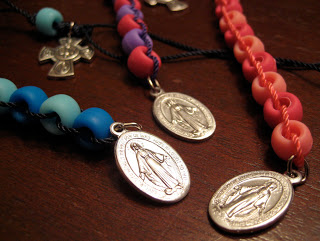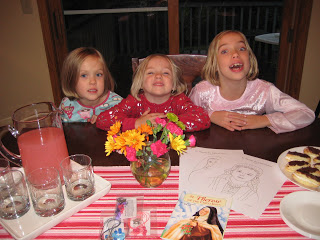 We had a wonderful time learning about and celebrating such a beautiful saint!