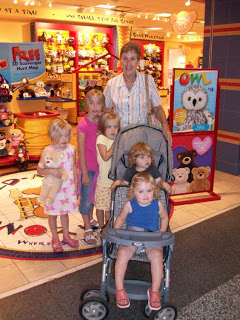 Teddy Bear Memories
Teddy Bear Memories
As you may recall, my mom and I are
sewing quilts
out of
my step-dad Russ
' old shirts as a remembrance of him … Well, my mom wanted to do something special for her grandchildren for them to remember him by, too. So, she (with the help of my aunt) came up with the idea of teddy bears.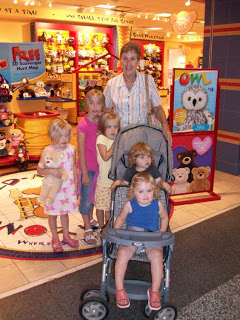 The trio each selected a teddy bear. From left to right, meet Elizabeth, Anita and Lucy.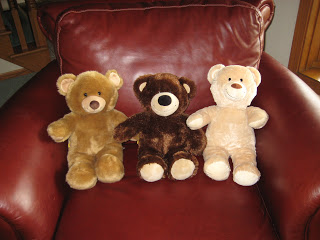 If you've never been to one of these stores (it was our first time), it's a cute process. First, they picked out a flat, or empty, bear. Then, they put a little red heart in it (and an I.D. number). Then, it was stuffed and became a *real* teddy bear right before their eyes! Then, they each named their bear and received a birth certificate, along with a cardboard house-looking box that they could color and lots of "hair" bows. (All the little details that kids just love!)
Of course, the store is filled with cute outfits, shoes and accessories for the bears. But we didn't buy any of those … This is where the memory part comes in.
My cousin, who just graduated from college with a degree in apparel design and development, created a dress pattern for the bears and sewed them out of one of Russ' flannel shirts and a pair of his jeans.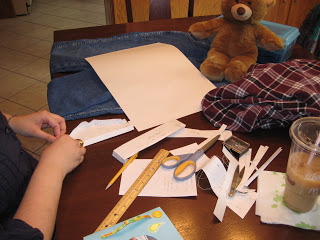 Mind you, my young cousin is very cool to my trio. They. love. her. They constantly ask her questions about her favorite color, food, etc. So, the fact that she was making something for them … Oh. my. gosh! They were so excited! (And she is so good with them, too!)
Here are the final results of the project:
Each dress is a little different … Buttons in different places, some with pockets, some without … But I think you get the idea.
A special friend to hug in remembrance of Grandpa Russ! Something of his they will have forever!
***
P.S. What about the twins, you might ask? Well, they won't remember Russ; they're too young, but I heard through the grapevine that something is in the works for them, too … So, we'll see! =)