Fall Nature Walk & Some Random Notes
Fall Nature Walk & Some Random Notes
It was a beautiful fall day on Sunday. So, we bundled up a bit and went on a fall nature walk. We live near a nature center, even though we're very close to the city, too. Even though the weather has been
weird
, we have still been blessed with a bit of fall to enjoy …
Hello, ducks!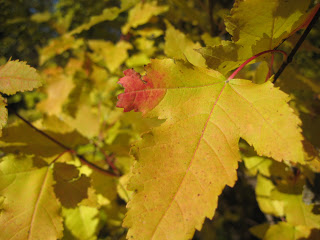 My favorite leaf, yellow with just a bit of red! So pretty!
My son is feeling better, but he is still not 100% … I think it was good for him to be outdoors for a bit anyway …
We even found some purple …
This was taken in our yard while my husband raked … I thought it turned out cute. My preschooler in her Little House bonnet with wild flowers!
Today, it's raining … It was the perfect day to make homemade chicken-wild rice soup! I tripled the recipe, so that I had enough to share it with two families from our parish who just had babies. I will be making deliveries later today.
I also gave an easy muffin recipe a try. All you do is combine a box of spice or carrot cake mix and a 15-oz. can of pumpkin. Bake as directed on the box. They're still cooling, so I haven't tried them, yet, but my house smells wonderful right now! I'm on my way to the kitchen to see how they taste and hopefully knit for awhile before I have to pick up my daughter from school!