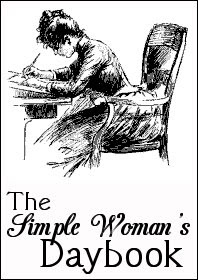 The Simple Woman's Daybook—October 26
The Simple Woman's Daybook—October 26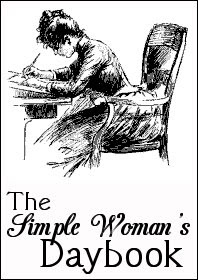 For today … Monday, October 26, 2009
Outside my window … overcast and cold. The sun is just starting to peek out and say hello. The trees are almost bare, especially now that we got more snow (that didn't last) on Friday.
I am thinking … about my to-do list. What is realistic to accomplish this week? And what do I have to let go of?
I am thankful for … a weekend (well, a day and a half) away with my women's group! We went to a cabin and relaxed, chatted, played games, ate good food and laughed. It was a wonderful get-away!
From the kitchen … I need to go grocery shopping. Since I was gone this weekend, the cupboards are looking a little bare.
I am wearing … jeans and a red turtleneck sweater
I am reading …
Lifeline with my women's group. Almost done. I have a growing to-read list!
I am hoping … that my family gets healthy soon. Croup is slowly going through my younger kids. My preschooler has it now, and my kinder-girl is staying home from school today, because that cough sounds way too familiar.
I am creating … a pink scarf and a new variegated blue scarf. I still don't know how to fix my mistakes, so I'm stuck on the pink one until I can go into the needle arts store by my house and get some help =) But I am almost done with it. And I am thinking about the possibility of making some homemade Christmas gifts this year, too.
I am hearing … my sick kids upstairs watching one more show on PBS. (Hey, they're sick! That's what I'd want to be doing if I felt crummy! Although I'd probably pick a movie, like The Proposal, which I just saw and enjoyed very much.)
Around the house … things tend to get messier over the weekend around here. Do they in your home, too? Although we had a house showing on Friday, so it is clean, just a bit messy … I have laundry to catch up on, too.
One of my favorite things … laughing. I don't get a chance to laugh—you know, really laugh hard until you cry—nearly enough in my day-to-day life. It felt good to laugh a lot this weekend!
A few plans for the rest of the week … our eighth wedding anniversary; out with a friend for coffee later this week; an all-saints party at school on Thursday and an all-saints party at our friends' parish Saturday night
Here is a picture-thought I am sharing with you …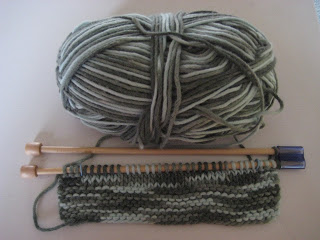 The beginning of my new scarf. It's for my preschool girl. She has a new brown winter jacket with snowflakes all over it in this same blue color. I think this scarf is going to look so cute with it. Since it's variegated yarn, I'm going to keep the pattern simple with stockinette stitch and a little knit border.
For more daybooks, visit
here
.