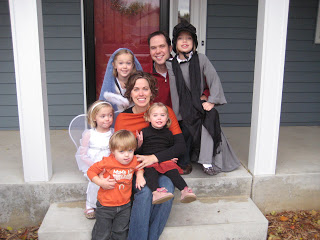 All-Saint's Eve Celebration
All-Saint's Eve Celebration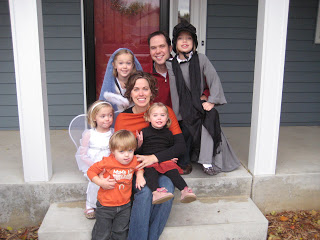 Last night we attended a wonderfully faith-filled and fun All-Saint's Eve Mass and party at our friends' church. All the kids processed into Mass signing Oh When The Saints Go Marching In. It was so cute (and very inspiring) to see so many saints represented! For the communion meditation, we sang the Litany of the Saints, which always makes me cry, especially when I hear the names of my children's patron saints. I find it so incredibly beautiful to call upon all these holy men and women for their prayers. This mysterious reality that we call the Communion of Saints is truly awesome when I stop and think about it. That we are all part of the same mystical family as these saints in Heaven. Wow! It is humbling and so wonderful! And I am so grateful for our Church, which gives us these holy days and feast days to unite us closer together with them … and ultimately to Our Lord.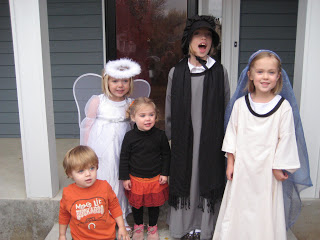 A couple pre-festivities pictures. It's hard to get five kids to look at you (and smile)! My trio dressed as (from oldest to youngest) St. Elizabeth Ann Seton; Mary, the Mother of God and Queen of All Saints; and a guardian angel, since we've been talking a lot about guardian angels in homeschool lately. The twins wore their black and orange garb to look ever-so festive =)
After Mass, we had a simple dinner and then the kids played games, such as a Jonah fishing game, pick a rose from St. Therese's bouquet, etc. Everyone got prizes, like rosaries, holy cards, faith tattoos and bookmarks. Oh, and there also was a cotton candy machine. My kids were in heaven!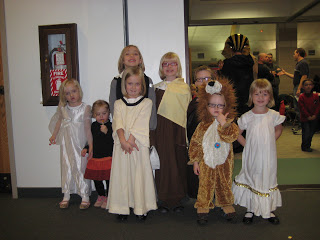 My kids (minus Boy) with their friends.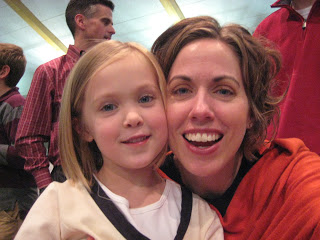 Me and my Kinder-girl goofing around with the camera! Her blue sparkly veil didn't last long, because it itched her head … Oh well!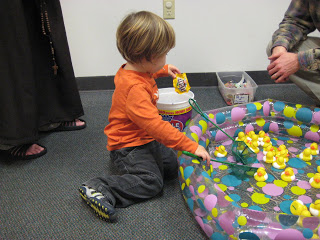 My son playing the fishing game. He did not want to leave this game, and he kept wandering back to play again and again …
At the end of the night, each of my older girls received a huge bag of candy to take home, which they transferred to their pumpkin buckets.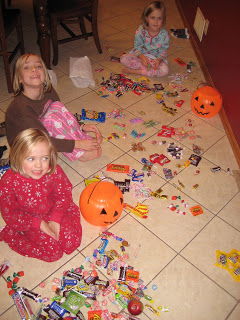 Here they are spreading out their candy on the kitchen floor to gaze at, sort through and trade with one another, after changing into their cozy PJs.