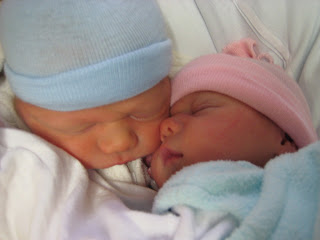 Twins Turn Two
Twins Turn Two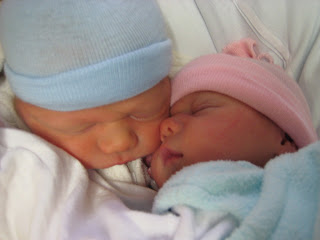 Happy 2nd Birthday to my silly little twins—the naughts, as we affectionately call them. (Yes, that is short for naughty =) We love you, Two, and we are so blessed and honored that you are part of our family.
***
I shared a bit about
my pregnancy
with the twins a couple weeks ago. Here is a brief summary of their birth story, as told by my husband in an e-mail he sent out after we arrived home from the hospital five days after they were born:
Hi Everyone!
Whew! What an absolutely incredible 5 days this has been (since we entered our business as usual dual induction on Tue). As many of you have already heard, our experience on Tue and Wed ended up being anything but business as usual! Below I have included some highlights from our day on Tue.Tuesday November 204:00 AM We wake up with suspected final labor6:00 AM Checked into hospital for the main event8:00 AM Labor stops but we stay because we are scheduled for an induction that morning anywayNoon Induced labor is slow going (compared to our rapid deliveries of the past!)2:00 PM We are wheeled into a big scary operating room2:19 PM Boy is born! (the old fashioned way)2:22 PM Girl decides to enjoy her new spare bedroom instead of following Boy down the fire escape2:40 PM Dr. can't wait for Girl any longer – commence emergency C-Section2:55 PM Girl is born!6:00 PM Greg & Sarah arrive in their recovery roomThank you all so very much for your prayers and support during this transition for our family. We have been absolutely overwhelmed by your thoughtfulness and generosity over the past few weeks.We are ecstatic at the twins' long awaited arrival and their impressive health! We are exhausted with joy. Sarah is recovering well but would like to be able to do more than her monster incision will allow. She is still in a fair amount of pain. Please keep her continued recovery in your prayers.Thanks again all!Greg***To fill in the gaps, I started bawling when we were wheeled into that "big, scary operating room." The twins weighed over 13 pounds together. My son weighed 7 lbs., 5 oz., and my daughter weighed 5 lbs., 9 oz. (And this was at one day shy of 37 weeks!) And yes, you read that correctly, he was born first "the old-fashioned way," as my husband calls it, and she was born via C-section. I started crying again when I found out this had to happen. My biggest fear came true that day, and believe me, I asked plenty of doctors and nurses about the chances of this happening. (Oh, the stats are very low, but I was blessed enough to be part of the minority!)Shortly after their birth, my husband created a beautiful video of the experience that still makes me cry when I watch it. I wish I could share it here, but perhaps it's too personal for the world WIDE web. But to those who I consider my blogging friends, yes, I wish I could share it with you. Oh, well! Perhaps one day =)***
The first six months of their lives were a blur. Really blurry. And having twins has turned my world completely upside down. But I wouldn't have it any other way. Both of them are so delightful and funny. It is incredible to watch a boy and a girl grow up side-by-side! The differences. The companionship. The messes. The fighting! The laughing. Now that they're talking a bit, it is fascinating to hear what words they come up with and how the other one will use that word, too.
And this is really only the beginning …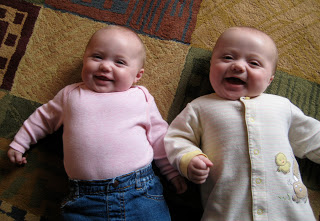 Again, happy 2nd birthday, Babies! May the Lord continue to shine upon you and give you everlasting joy.