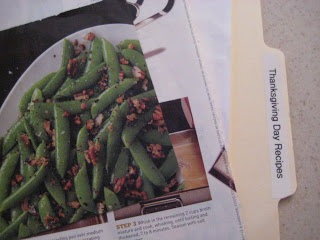 Wrapping Up Thanksgiving
Wrapping Up Thanksgiving
As I mentioned before, this was the first year I hosted Thanksgiving. It seems kind of odd to still be talking about Thanksgiving on this first Sunday of Advent, but it's also the last day of that long, wonderful Thanksgiving-Day weekend!
So … Overall, it was a really fun day! The biggest glitch was that the turkey wasn't done when everyone arrived, like I had planned. But I think it was worth the wait … It turned out delicious (thank God!)
Here are a few things I did in my planning and prepping that I thought worked really well.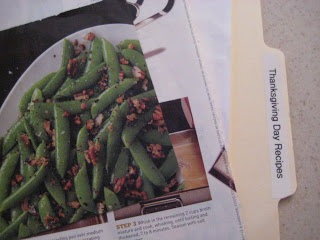 Since my recipes were from all different sources, I made a file and kept them all together. This was very handy when it came time to buying ingredients and cooking each recipe.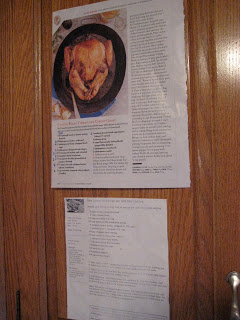 When I was cooking, I taped the recipes to my cabinets, so that I didn't have to keep looking down (and getting a sore neck!) … It also probably saved the recipes from getting spilled on!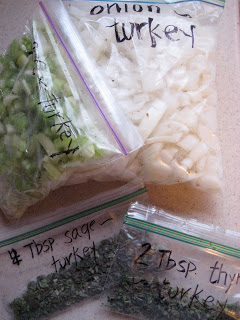 The night before Thanksgiving, I chopped and measured all my ingredients and put them into labeled baggies so that on Thanksgiving Day, all I had to do was pour the contents in. This saved a lot of time, I thought.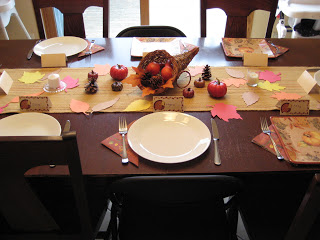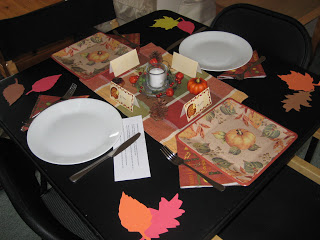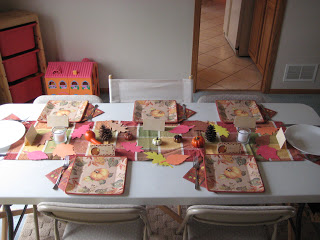 With 23 people coming to my house for Thanksgiving, I had a bit of a seating dilemma. The only table I have is in our kitchen, and it only has six chairs. It can seat eight with card-table chairs. We use our dining room for a play room. So, this was the first time in the four years we have lived here that we used our formal dining room for what it was built for—eating meals! I cleared it out a bit and made room for a long folding table and one card table.
I decided to have immediate families sit together. I didn't want a kids table, because 11 of the children there were seven years old and younger. This seating arrangement also worked well with the thankfulness activity we planned, so that parents could talk with and help their children focus on being grateful.
On each table were cut-out leaves and markers. Each family went around and shared with one another one or two things they were grateful for. Then, after dinner, they wrote those things on the leaves.
The day before, Greg and the trio painted a fall scene with a bare tree. We put this up on a magnetic board that we have in our kitchen. One of the older cousins helped my girls tape up all the leaves.
It was so beautiful to have a visual of all the blessings from the Lord that are in our lives!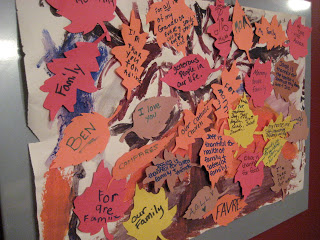 One last note, we also prayed a more extensive grace before dinner. I adapted (shortened) it from the one that was in the November issue of
Magnificat
. My SIL lead us in the song
Now Thank We All Our God
, and I had each of the dads be the leaders. I thought it turned out really nice! One of my BILs even commented to me that he appreciated the focus on prayer. It is so reassuring to get that kind of feedback!
Well, I think that about wraps up Thanksgiving—lessons learned, helpful tips and fun ideas to focus our family on gratitude.