The Simple Woman's Daybook—Advent (and Blogiversary) Edition
The Simple Woman's Daybook—Advent (and Blogiversary) Edition
This picture is a mural on the Visitation Church in Ain Karim on the outskirts of Jerusalem, which commemorates Mary's visit to her cousin Elizabeth and the Magnificat. It was sent to me in an e-mail, and I looked up the origin online … I love the reminder of how the angels must have been so present to Mary throughout her life, how they are so present to us, too. It also reminds me of her journey to Bethlehem, which we recall this Advent.)
For today …
Monday, Dec. 7, 2009
Outside my window … in the 20s with partly cloudy skies. The sun is just peaking out enough to cast some lovely natural light into my kitchen. After an unusually warm November, the winter jackets, hats, mittens and scarves are now part of our daily attire.
I am thinking …
about this
article
. I keep finding little reminders about the kind of Advent my heart is desiring, because I think it is the kind of Advent the Lord is desiring for me (and maybe you?), too.
One more thing I'm thinking about: what to get my 7- and 6-year-old daughters for Christmas. They have me stumped this year … Any suggestions?
I am thankful for … a blessed Advent, a nice weekend with my family, finally placing the Amazon order I've been working on for a week (LOL!), and finally finding a long corduroy skirt, which I've been searching for all fall!
From the kitchen … since my oldest has Irish dance tonight, the dinner menu will be quick and easy. I'm also trying to decide on one or two Christmas cookies to bake this year. Perhaps something like Peppermint Bark or truffles, too … Not too much, though, to maintain simplicity, as well as to maintain my waistline (if it's here, I will eat it!)
I am listening to …
this beautiful new Christmas
song
. Have you heard it, yet? While running errands Saturday morning, I heard it on the radio. Even though I reached the store to which I was going, I waited in my car until the song was over, because I just thought it is so poignant! (To listen, scroll down on the link, and click on the play button. The song is called
How Many Kings
. If it doesn't work, try
this
.) I also have been listening to the Advent playlist I created on iTunes. I will share it with you soon, if you'd like to know what's on it …
I am reading …
The Christmas Promise
, but it's due back to the library on Wednesday, and I can't renew it, since someone else has it on hold. Perhaps I should have added a copy of it to that Amazon order I just placed. Oh well! I've also been reading lots of magazines. I just love those Christmas issues! And I can't forget
Destination Bethlehem
and other Advent/Christmas books—old favorites and new ones alike.
I am hoping … to get more prayer time in this week, which means I need to go to bed a bit earlier in order to wake up a bit earlier for that much-needed time with God.
I am creating … a peaceful and festive home, meaningful times with family, and some hand-knitted Christmas gifts
Around the house …
it's clean, since we had another showing on Friday. Just a quick tidy before women's group tonight … And I have to keep up with laundry this week!
One of my favorite things … the richness of our Catholic traditions
A few plans for the rest of the week …
+ Mass and a liturgical tea for the Feast of the Immaculate Conception (no school for my older girls)
+ a few errands
+ doctor check-ups for three of my kids
+ liturgical tea for the Feast of Our Lady of Guadalupe
+ put up the Christmas tree
A picture-thought …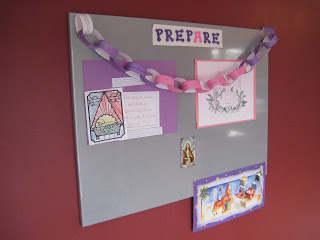 A magnetic board in my kitchen has become the background for an Advent collage of sorts. So far, it includes the word prepare made out of foam stickers, our Advent calendar, our Advent paper chain, a piece of artwork from Good Shepherd, an Advent wreath on which my preschooler is coloring a candle each week, and a holy card of St. Lucy. As we get or make other things this season, I will add them to this board.
For more daybooks, visit
here
.