The snow started yesterday, on the Feast of the Immaculate Conception. While driving home from the pediatrician's office, the pure white snow reminded me of Mary. And it just felt like this snow was a little gift from God to remind me of His incredible love, His incredible plan for salvation …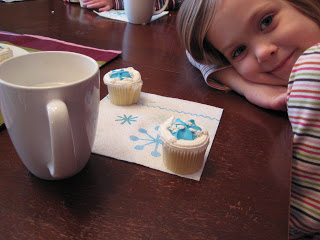 To commemorate yesterday's solemnity, we had a liturgical tea. It wasn't exactly as I planned it, but no one was the wiser. I found these adorable cupcakes at SuperTarget, and they seemed just right—white and blue—for Our Lady. White hot cocoa was a great companion.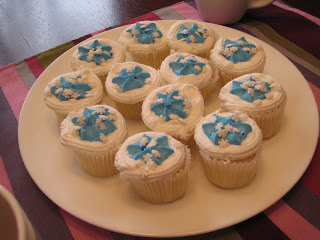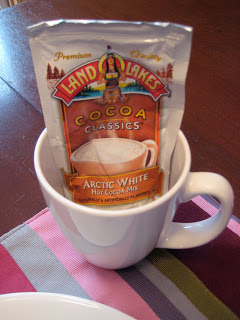 We sang
Immaculate Mary
together, read the day's Gospel, and talked about what the Immaculate Conception is. My kinder-girl told me that God wanted a perfect mother for His Son.
Yes
, I thought to myself! (Seeds are being planted =)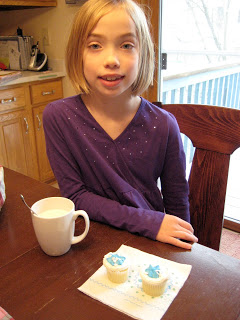 This morning, we woke up to school being cancelled for the day. Snow day! Hooray!!
After reading
this
, I feel a little more lenient in allowing hot chocolate "just because." Snow days seem especially appropriate.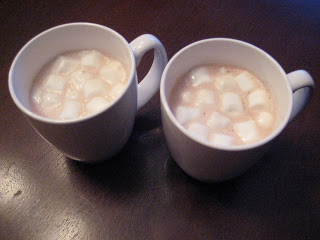 We watched this
movie
today, too, covered in blankets with me working on some knitting.
Afterward, they wanted to play "Molly," so I was on my own for baking cookies. They, of course, have had no problem helping to eat them! I made them with
these
dark chocolate and mint morsels. Just the recipe on the back of the package—oh so delicious!!
With two days in a row off of school, I think it will be good to be back into our routine tomorrow (in other words, the squabbling is starting to increase =) But what a lovely little wintery break it was.