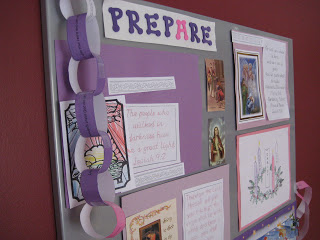 It's Beginning …
It's Beginning …
… to look a lot like Christmas!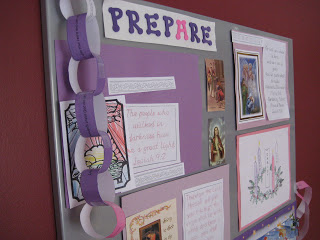 Our much-fuller Advent board. This ended up being a wonderful blessing for our family. Over the past four weeks it has really taken shape! It's a lovely focal point in our kitchen, and we actually use it, too, with our Advent chain, Advent calendar and our newest addition …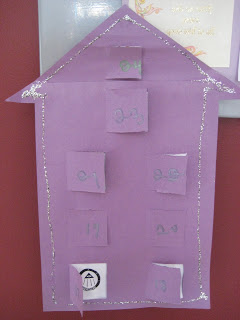 … an O Antiphon house. I originally had wanted to make
this
O Antiphon craft with my preschooler, but after I tell you about all that happened last week (good but stressful!), you'll understand why it didn't happen. Miraculously, I found the house my oldest made last year in Kindergarten. (Thank you, Lord!)
On the first night, we talked a bit about the
O Antiphon
s
. Then, we sang the first verse and the "O Wisdom …" verse of
O Come, O Come Emmanuel
. Then, each older girl received a new Christmas book as a symbol of just one way to gain wisdom in the Lord—by reading about Him and stories related to His birth. The books were
The Gifts
,
The Little Drummer Boy
and
The Legend of the Candy Cane
.
On the second and third nights of the O Antiphons, we had a school Christmas pageant and a Christmas party to attend. I had wanted to make a gingerbread house as a way of honoring "O Adonai, and Ruler of the house of Israel …" on Dec. 18, but we'll just have to do that one day during Christmas vacation.
Tonight, we will play a little catch up and also enjoy Key Lime Pie, as we recall that Jesus is "the key of David." Thanks to
Jessica
for this idea! Oh, and we have to do a little catch-up with our
Destination Bethlehem
book, too =)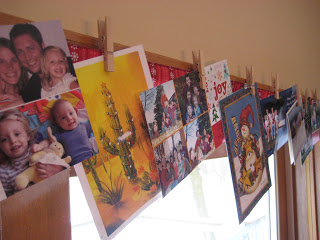 Never really knowing how to display Christmas cards and usually simply putting them in a pretty basket, I found this idea
here
and thought, "That's easy enough. I can do that!" So, I did. It's really lovely to see and enjoy all the cards everyday!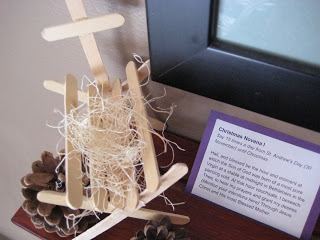 Our little good-deeds
manger
. "Are we making Jesus' bed warm and cozy?" is a question that has been out of my mouth a lot these Advent days. I think it's been good for the girls to think about and a little way for them to prepare their hearts for Christmas.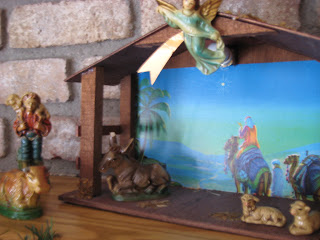 This year, we have slowly added figurines to our manger. It started empty. Then, just the animals were there. Last week, the angel and shepherd arrived. And I believe Mary and Joseph are expected sometime today! And those wise men … well, they've been spotted in a number of closets and shelves upstairs. They still have a ways to go, and they seem to travel mostly at night. This practice of slowly adding the nativity figurines is new to us this year, and it's been a wonderful way for all of us to slowly transition from Advent to Christmas. To really focus on the journey, the waiting, the praying.
Our Christmas tree is decorated (photos to come!) And I still want to put up one more nativity set, closer to Christmas, though, because Jesus is already in Mary's arms in
this
one … There are a few Christmas-decoration boxes I just didn't unpack this year. I think it was part of my quest for simplicity. And it's been a good thing for me.
What's up for the week? Cookies to finish decorating. Presents to wrap. Cards to mail. (This year they will arrive during the
Octave of Christmas
—again another thing to surrender.) Grocery shopping for Christmas festivities. My mom arrives during the afternoon of Christmas Eve … Looking forward to all of it, as I wait in joyful hope for the birth of Jesus on Christmas!