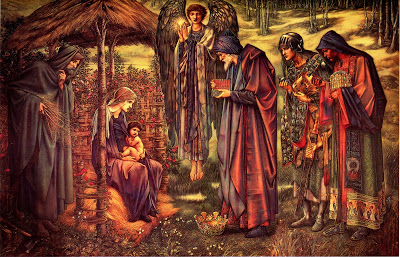 Sublime Offerings
Sublime Offerings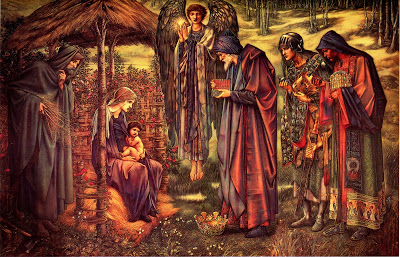 Let us remain in adoration: and to Him, who,
in order to save us, humbled Himself to such a degree of poverty
as to receive our body, let us offer not only
incense, gold and myrrh, the first as God, the second as king,
and the third as one who sought death for our sake,
but also spiritual gifts more sublime
than those which can be seen with the eyes.
~ St. Gregory Nazienzen ~
+++
It's not too often, or coincidental, that you read two beautiful writings from the same holy saint in the course of 15 hours. Is it? The above was sent to my in an e-mail today. The one below I read in my Magnificat yesterday evening while I prayed before Holy Communion.
+++
The Power of the One Who Is to Come
Now we bless you, my Christ, Word of God,
light of light that has no beginning,
steward of the Spirit
and of that threefold light
that gathers in one glory.
You it is who set loose darkness,
you who brought forth light
that you might create all things in light.
You make fast wandering matter
forming it into a world
and the good order we now have.
You enlightened the mind of man
with reason and with wisdom
and so placed an icon here below
of the brightness that is above
that man may see the light by light
and so become entirely light.
You lit up the heavens with lights of many hues.
You decreed that night and day
should gently yield to one another
honoring your law of brotherhood and sisterly love.
In night you give respite from the cares of our burdened flesh.
In day you raise us up to work
and to deeds that are pleasing to you,
that fleeing from the darkness
we might hasten into day,
that day you free from all the gloom of night.
+++
Wishing each of you a blessed Epiphany! My oldest daughter informed me this morning that the wise men did not move last night. They are almost at the manger. I thought, "Oh no!" I didn't tell her that though. I simply told her that they have all day to travel there … Right??!
**Update (12:04 p.m.)** The wise men have arrived! And we will incorporate
these
beautiful Epiphany prayers into our dinner plans tonight.