You may or may not remember
this
post, where I began my quilting voyage. I didn't get very
far
last summer. But I was OK with that. I figured the project would be an ongoing journey, a work-in-progress, because, well, it could be.
My mom had other plans in mind, though. Plans I knew nothing about … Let's just say she was a very busy bee this fall/winter.
What could be in this big, red box?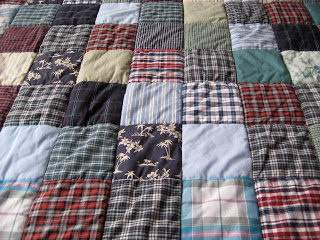 Ta-da! A beautiful, scrappin' quilt made out of (Grandpa)
Russ
' favorite plaid shirts! From Mom/Gram to all of us!
(A scrappin' quilt is when you simply take the quilt squares and lay them down, with no rhyme or reason or pattern. You only change them around when there are two of the same next to one another.)
She actually made four quilts in all—one for us, one for Russ' daughter, one for Russ' son and one for herself. See, I told you she was a busy bee!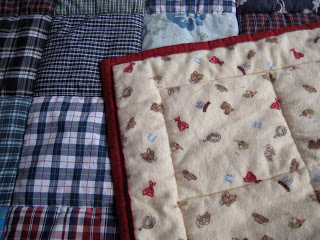 A cozy, cowboy-print flannel covers the back of the quilt.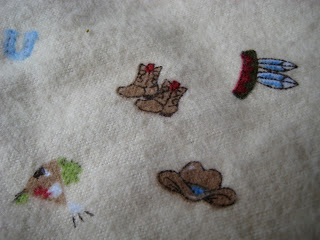 Because Russ was a cowboy at heart =)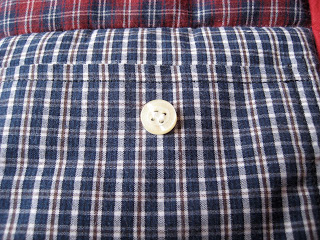 On two of the corners, shirt pockets with buttons were kept intact. Too cute!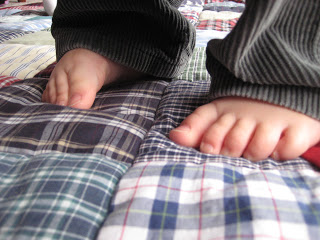 A little toddler boy's chubby feet. How could I refuse to post this photo?!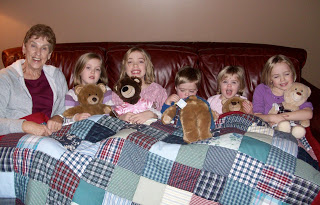 Thank you, Mom/Gram! We love you! And we love our special quilt!
(But I guess I'll have to pick up my quilting adventure somewhere else =)