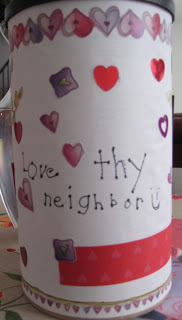 This and That
This and That
Blogger's block has hit me hard recently. I simply don't know what to write, what to share, what to post. Our transition into this temporary home is nearly over. Now it's time to get into our routines once again: prayer routines, cleaning schedule, laundry schedule, homeschooling my preschooler, etc.
Lent begins tomorrow, and I don't have a concrete plan yet. I have ideas, but nothing solid. I think I hear the Lord telling me to focus on distractions, but I'm going to ask Him for confirmation before I really figure out what I should do about it. As for the kids, I'd like to use
The Story of the Cross
, perhaps weekly, for Stations of the Cross. I may have packed some other Stations resources, but I'll have to look. Getting back into night prayer with the kids will be good, too. We made an alms-giving box yesterday that made a bridge between Valentine's Day and Lent.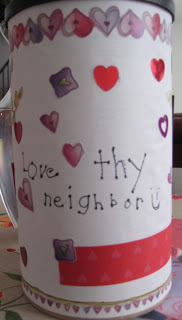 From Little Saints preschool curriculum. The trio and I talked about how when we are baptized in Christ, we become one family. Therefore, everyone is our brother or sister in Christ, even those we don't know. Jesus instructed us to help the poor. They are our brothers and sisters, too. Therefore, all of our extra change will go into this "Love Thy Neighbor" box during Lent and be given to the poor at the end of the season.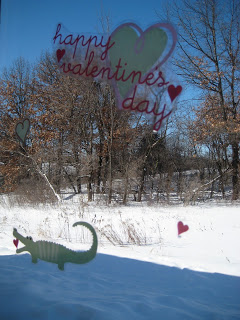 Our Valentine's Day was a quiet one. Nothing too special, except for the most special thing of all: spending time together as a family. The kids went sledding with Dad. We watched "Duke and the Great Pie War" from
Veggie Tales: Silly Little Thing Called Love
, which was all about loving your family. (The other episodes on the DVD are about loving your neighbor and loving God.)
Isn't this quite the Valentine's bag? Only my kindergirl would go all out. I love that about her. When I saw her walk out of school carrying it, I couldn't help but smile. It reminded me of Ann Estelle in Queen of Hearts by Mary Engelbreit. Basically, Ann gets so into making her Valentine's Day box, that she forgets to make Valentines for her class … Fortunately for my kindergirl, we made our Valentines before she got to decorate this bag in school =)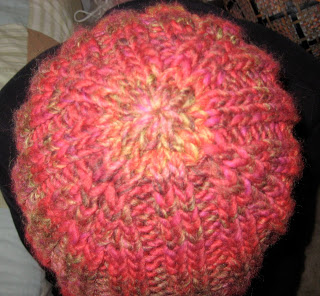 Have you noticed that I've been posting a lot of knitting projects lately? I'm having a blast with it! So, I hope you don't mind me sharing … I finished my hat =) And I'm now working on a "pidge" to match. (A pidge is a short scarf with a button closure.) But I'm struggling with knitting it too tightly, because it's a new stitch that I'm learning. So, the stitches are not sliding off my needles very easily. And I got off pattern. Sigh.
Yes, this is me. Not the best photo, I know. But I wanted to show you my hat. And seven-year-old girls will only take so many photos before they are off to do something else! What ya see is what ya get!
But with my knitting, I have a confession to make. Regarding that blueish-green scarf (
Galaxy Mix
to be exact). I could not keep knitting it in a stockinette stitch like
I said I would
. The more I knit, the worse the curling got. I had to start over.
Had to.
I hope this wasn't a lesson in perfectionism for my preschooler, the recipient of the scarf. And if you think it was, please don't tell me so. You see, there wasn't just a little curling going on. It looked practically like a long tube, and not a scarf. So, I found another pattern and whipped it up. The pattern, from
One-Skein Wonders
, actually knit faster, and I like the end result.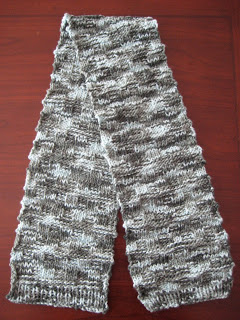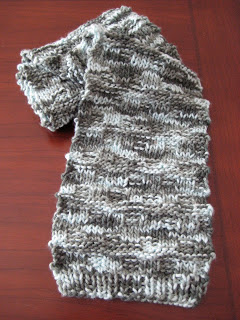 I will be going on my parish's women's retreat this weekend. Remember the one I went on
last year
? I can't believe a whole year has gone by since my last retreat. This year's theme is
One Body in Christ: The Precious Value of Family and Friends
. Sounds good, doesn't it? I'm looking forward to getting away. But I have a lot to do to get myself—and my family—ready for me to be gone …
Well, that's all I've got … I told you I have blogger's block!
Happy Fat Tuesday! And a very holy and blessed start to Lent.