The Simple Woman's Daybook—Early March Edition
The Simple Woman's Daybook—Early March Edition
For today … Monday, March 1, 2010
Outside my window … sunny, mid-upper 30s! There definitely is a spring feeling in the air. But in Minnesota, this can be deceptive, as March can be a very snowy month and the spring buds and blooms don't usually sprout up until late April-early May.
I am thinking … about how I can't believe it's already March! The last two months zoomed by, because we were so busy with house and moving stuff. I love March, though, because it's my birthday month, and I love my birthday. I've always been giddy about it, which I know is silly, but what can I say? That's just me! =)
I am thankful for … my husband
From the kitchen …
this week's menu: Pioneer Woman's
Perfect Pot Roast
, Southwestern Sloppy Joes, Weight Watcher's Beef Bourguignon, Turkey Soup, Cheese Pizza
I am listening to … the hum of the computer, my husband making popcorn downstairs. (He makes the best popcorn! Yes, I am starting this Sunday night =) My oldest daughter has been singing the song Daring Daylight Escape by Caedmon's Call nonstop for a couple weeks. It started in the carpool. She'd come home raving about this song and signing, "cause the sun's going down" over and over again. And then when my husband finally figured out what song she was singing, he realized we had in iTunes. So, needless to say, she requests it often, and we're all getting to know it quite well! (I promised I'd print out the words for her, so she could really learn it, and I will … when I get some more printer paper!)
I am hoping … that my family and I continue to have a prayerful and purposeful Lent
I am creating … along with my husband and our builder, some house plans! It's an interesting process, but it's coming along well. Also, I'm working on these projects. Oh, and this week, I will help the trio create these to continue our Lenten journey.
Around the house …
laundry is piling up, so that will be a priority this week. But this smaller house is a breeze to clean! And so I'm grateful for less time spent cleaning, which is a nice break from when I had to keep our old house so clean for showings!
One of my favorite things … tulips
A few plans for the rest of the week … a quiet one ahead ~ yay! Irish dance, Good Shepherd, the van needs new tires, hopefully soup & stations at church on Friday. I think we might do something as a family for my birthday this weekend!
A picture-thought …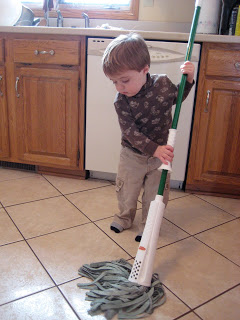 My little helper! He is always asking to help me clean up spills, wipe the table, vacuum, sweep, mop, dust … You get the picture! Such a sweet boy, so good to his mama! =) Let's hope it keeps going, long into his teen years ~ lol!