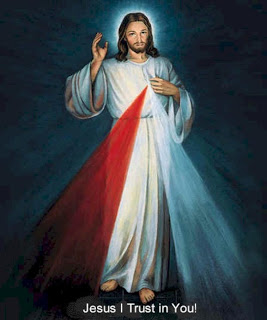 Notes on Trust and Suffering
Notes on Trust and Suffering
The last talk of the retreat I attended two weeks ago was on trust and suffering. It was given by a young woman studying to receive her master's degree in marriage and family from the
John Paul II Institute
. Looking at her youthful glow, perhaps some would wonder what they could learn from such a young woman. But her spiritual maturity was years ahead of her biological age. She was prayerful, passionate and wise. And she had a lot to share about the topic entrusted to her.
Below is a synopsis of her talk, from the notes I took. Over the past two weeks, I have reread them frequently, and they have been very helpful, insightful and convicting. Perhaps they will be of some use to you, too.
• There are two types of suffering: enduring and sanctifying
• Enduring suffering includes our daily trials. It could include spiritual warfare. These sufferings bear great fruit. They are tiny offerings, compared to Calvary, but we lay them at the feet of Jesus anyway.
• Sanctifying suffering is heart-wrenching. We tremble under the weight of it. At times, we may ask, How did He let this happen? We personify our humanness on God. But we are encouraged to look at it as a gift, as a compliment, rather than bone-crushing.
• During this type of suffering, we must trust: Father, into Your hands I commend my spirit. Jesus, I trust in You. This type of suffering is an opportunity to grow, and to receive the grace and love it can bring.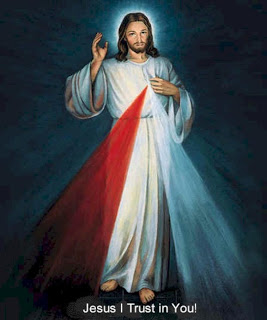 • We may wonder where the Lord is during these times. Rather than Him not being with us, though, we can try to imagine that we are nailed on the other side of the cross. With Jesus. We can't see Him, but He's there with us. Suffering, too.
• Jesus asks us not only to endure the suffering but to will it. When we do not will the suffering, we hold on too tightly to what we know, for control and security. But this is not from the God that we need to know …
• An example of this "holding on to" and not willing the Father's will: On the day of His Resurrection, when He meets Mary Magdalene, He asks her whom she is seeking? She thinks He is the gardener and responds, "Sir, if you carried Him away, tell me where you laid Him, and I will take Him." And Jesus says her name, and then tells her, "Stop holding onto Me, for I have not yet ascended to the Father. But go to my brothers and tell them I am going to my Father and your Father, to my God and your God." (John 20:11-18)
• Another example is in The Passion of the Christ movie when Jesus meets His mother on the way to Calvary. She wants to stop and protect her Son from the pain and suffering. What mother wouldn't want to end this for her child? But He tells her, "Mother, look, I make all things new."
• An example of not holding on is in the famous sculpture by Michelangelo, La Pieta. If you study it, you will notice that Mary does not hold on to the dead body of her Son. But rather her one hand is open. She is not holding on to what she knew, as if to control the situation. Rather, she is open to the will of the Father. As if she is giving her pain, her sorrow, her suffering to God. She is giving her Son back to His Father, to His will and trusting Him completely.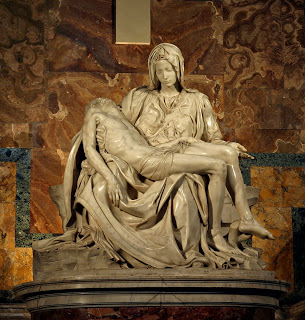 • When we fail God over and over again, we may ask, How can He forgive me again?
• Perfection is not in "how we do" or not falling; even Jesus fell three times. Perfection is in our relationship with Him.
• This is when He reveals Himself as God. This is when He calls us to behold the Pierced One, to let the blood and water flow down upon us and soak in, and to rest in Him.