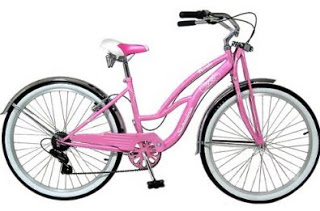 Just Like Riding a Bike
Just Like Riding a Bike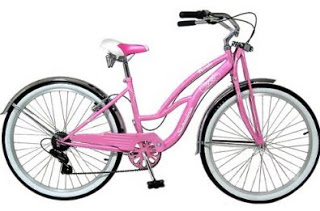 That popular phrase took on a literal meaning yesterday when I received my very special birthday present: a new bike!
I have not had a bike since I was in junior high school (maybe before that). After my parents divorced and we moved from my childhood neighborhood where I rode bikes with my friends everyday, I sort of stopped riding. I didn't have anyone to ride with, so it seemed pointless.
Then, while I studied Spanish for one month in Guatemala while I was in college, I had an opportunity to go on a bike tour. So, I did. I had not ridden in years, and I definitely think I forgot how to ride well. Sure, I could balance and pedal, but I lacked confidence. And our tour guide was this cycling expert who zoomed around the rugged countryside as if he was in a race. I just couldn't keep up, and I couldn't turn those sharp curves fast enough. On one occasion I rode into some roadside shrubbery to avoid falling. It was not a pleasant experience for me. Except for one favorite memory: riding through the coffee bean groves. The aroma was heavenly!
Up until a year ago, I never had the desire to ride a bike again. Nor did I really have an opportunity or reason. But my children are getting bigger and riding their own bikes more. Last summer was the first time they could go on bike rides with their dad. I stayed home with the twins, which was fine, but I also felt like I was missing out on some family fun. So, I mentioned to my husband that I'd like a bike by the following summer. And I put it on my birthday wish list as a reminder.
Then, yesterday morning, I got a special card. It read: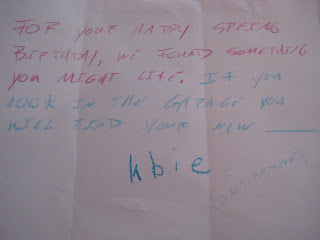 For your happy spring birthday, we found something you might like. If you look in the garage, you will find your new …
Since this was a rather challenging riddle (wink!), I received a scrambled clue from my seven-year-old: kbie.
When I went into the garage, there was my new
pink bike
, decorated with all these lovely pictures and cards. It's not a great photo, because it was in our tiny, dark garage, which is a bit messy due to our move, but you get the idea. I was thrilled!
I am so looking forward to family bike rides this summer. With the twins in the
bike trailer
. Oh, and one of the most wonderful things about the new city we live in is that it is all connected with miles and miles of bike trails! Smooth, paved bike trails. No more off-roading for this gal. Just purely comfy riding. With my family. I can't wait!
Oh, and those
Mocha Brownies
were
absolutely sensational
! I highly recommend them. But they are very, very rich, so make them for a true celebration, preferably with a lot of guests so there are no leftovers. (We have a lot of leftovers … yikes! 😉
P.S. Thank you so much for all of the birthday wishes and prayers! I truly, truly appreciated them! XO