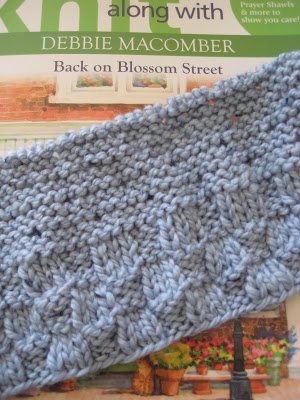 Craft Basket (Thursday)
Craft Basket (Thursday)
Just thought I'd share a quick pic of my prayer shawl. The pattern is from this
book
.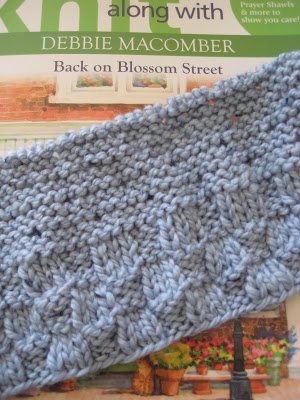 I was invited to attend a prayer shawl ministry event at a local convent. They call it "Knitting with the Sisters." I have only attended one event but committed to knitting a prayer shawl for the ministry. The sisters give out knitted or crocheted prayer shawls to anyone in their community who is sick, including the elderly, children and anyone in between.
I found this book while I was browsing at
Jo-Ann
a couple weeks ago. I've never read any of her novels, but I liked enough of the patterns in this book, that at 30% off, the book was a good one to add to my (small) collection of knitting patterns. This particular pattern could easily be used for a baby blanket, too.
While I am knitting this prayer shawl, I am praying the following prayer that the sisters gave to me. I just change "your" to "my," so it's more personal:
May God touch your hands with love
May God guide your needles with compassion
May God fill your yarn with spirit.
May God touch your heart with peace
May God guide your soul to freedom
May God fill your mind with silence.
May God touch your shawl with warmth
May God guide your community with joy
May God fill our world with hope.
May your knitting be blessed.
I've been thinking a lot about the person who will receive this prayer shawl. I can't help but think of him or her a lot, while I knit. This has been a very prayerfully blessed experience for me, knitting something for someone I don't even know with the hope that it will give them comfort and warmth during their time of need. I think this project has been so special, so meditative, because as a wife and mom, I really don't have opportunities to be out in the world making a difference. The difference I make is within my home, within my family. That is most important, of course. But knitting something for someone that I don't even know is a small way I can serve the greater community. This small act of service has truly been joy-filled!
So, that's what's in my craft basket this Thursday—in addition to my fingerless gloves and lace scarf =) Have you been knitting, sewing or crafting anything lately? If so, please share it over at Amy's blog,
Knit Together
. Or just stop by to offer her "get well wishes," as she just sprained her ankle—oh no!