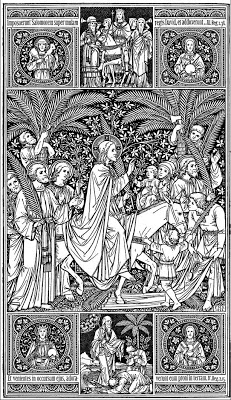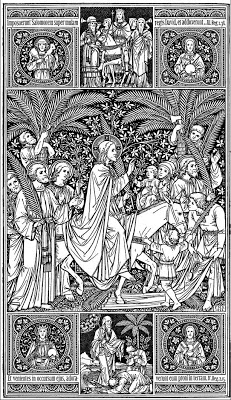 Holy Week, the most solemn and intense periods of worship in the Christian faith, begins with Palm Sunday, the Sunday before Easter. In spite of the spiritual gravity of Holy Week, it begins with joy. The Church celebrates Jesus' triumphal entry into Jerusalem, and the Church begins her commemorative pilgrimage with her Lord on His way to Calvary.
—Author unknown—
We just returned from a beautiful Mass at our cathedral, in spite of some very naughty twins. (Sigh.) As much as I believe in bringing my children to Mass ("Let the little children come to Me."), sometimes it is very, very hard. I want to be able to focus and pray. And sometimes all I seem to do is shhh them, distract them and even take them to the back, because they are being so noisy. One twin in particular almost always has to be taken out of Mass. Today, both displayed "epic naughtiness," as my husband says. And in an echoing cathedral, it seemed like their noisiness was even worse than it really was. Thankfully my trio act just fine in Mass, because they're old enough, but handling two toddlers in Mass often leaves me exhausted and frazzled. On top of just dealing with this and feeling like I am not very present to Jesus, don't pray enough or am unable to contemplate receiving my Lord in the Holy Eucharist (as if all that isn't enough!), I will be honest, and say that I worry about what other people around me must think. I worry about their perceived judgement. Especially when there aren't a lot of other children around us. Five young kids assembling into a pew. Are they saying, "Oh no"? I know that I shouldn't care. But I do. Perhaps it's prideful embarrassment. I pray that it's not. But I guess I don't know …
So, my Holy Week has not started off very prayerfully, with a poignant Mass experience. But I really have to fight to not let that ruin my Holy Week entirely. To let go of my expectations of how I want Holy Week to be. And surrender it all to Him. Walk with Him in my daily vocation. In the situation He has placed me in. Perhaps not having a perfectly prayerful and quiet and solemn Holy Week is the cross I must embrace. And when I do embrace my own cross, there is where I will meet Him. Along the way. Where He is waiting for me.
It's only 10 a.m., so we have a lot of Palm Sunday left! A lot of opportunity to ponder and pray and rest in Him during the remainder of this day. Our simple plans for today include doing our
Resurrection Eggs
for the first time this Lent, praying a family Rosary, and making a modified version of
this
palm sun
dae
dessert (because I don't like coconut ~ lol =)
My girls only have two days of school this Holy Week, and then they are off until April 12. I am working on coming up with some good, prayerful preparations for Easter (that are realistic enough, too), as well as some fun things to do during our break. But more on that later. For now, I'm off to play a game of Uno with my trio. And do everything I can to surrender those expectations and experience Him where He really is: here and now.