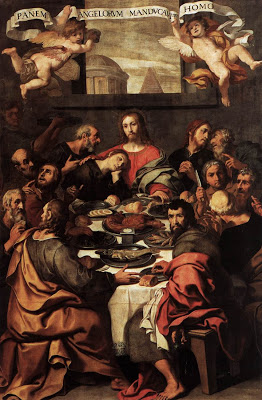 Holy Thursday: the Eucharist, Priests and Prayers for Pope Benedict XVI
Holy Thursday: the Eucharist, Priests and Prayers for Pope Benedict XVI
A blessed Holy Thursday to you!
And happy April, too!
I feel like I have a bunch of tidbits to share, but they don't all go together in a nice, neat way. So, this post may not be very concise, but here you go anyway!
+++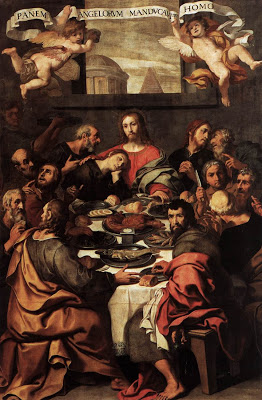 Jesus Christ instituted the Sacrament of the Eucharist so that He might stay with us and be the Food of our soul; that He might stay with us and be our Champion.
~ St. John Vianney ~
+++
Today
, we commemorate Jesus' Last Supper and the institution of the Holy Eucharist. We also celebrate the institution of the priesthood.
This is the year for priests. We must continue to pray for them, especially now as the Catholic Church is in the spotlight for scandal. As
Margaret
so eloquently wrote, "For every bad priest that makes the news, there are scores of saints that get no mention."
I am so grateful for our priests. I am particularly grateful for the ones I personally know and who have blessed my life in so many ways …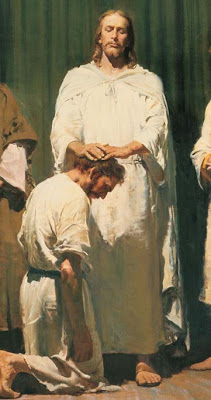 Without the priest, the passion and death of our Lord would be of no avail. It is the priest who continues the work of redemption here on earth … The priest is not a priest for himself, he is a priest for you.
~ St. John Vianney ~
+++
I also am so grateful for our Holy Father, Pope Benedict XVI, who is at his very core a humble servant of God, too.
Recently, I received an e-mail encouraging to put together a spiritual bouquet for our Holy Father this Easter. To pray for him for the 50 days of Easter. What a wonderful idea, that I wanted to share it with all of you! He needs our prayers.
According to Archbishop Timothy Dolan of New York, Pope Benedict is suffering "some of the same unjust accusations, shouts of the mob, and scourging at the pillar as did Jesus."
When he was installed as pope five years ago, he asked us to help him, saying, "Pray for me, that I may not flee for fear of the wolves. Let us pray for one another, that the Lord will carry us and that we will learn to carry one another."
But Pope Benedict has never fled … and he remains dedicated to renewing Christ's Church built on a foundation of strong Catholic identity.
So, let us pray for him now, more than ever! To know more about the spiritual bouquet, click
here
. (It's on the righthand side of the homepage.)
+++
This being the first of April, I also thought I'd post Pope Benedict's specific prayer intentions for this month. You can find out his prayer intentions for the entire year
here
.
For Fundamentalism and Extremism: That every tendency to fundamentalism and extremism may be countered by respect, tolerance and dialogue among believers.
For Persecuted Christians: That persecuted Christians may persevere, sustained by the Holy Spirit, witnessing to the love of God for all, even for those who persecute them.
+++
Well, I'm off to make breakfast and get this day started … We have a special delivery to make to our parish priests today: vanilla pudding chocolate chip cookies to be exact. We just wanted to thank them in a special way today for all that they are and all that they do for God and for us.