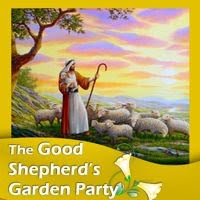 Garden Party 1 :: The Good Shepherd's Pasture
Garden Party 1 :: The Good Shepherd's Pasture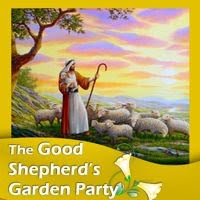 This Easter season, my family is using The Garden of the Good Shepherd sticker calendar to count the 50 days of Easter.
Every night after dinner, my husband blesses us with Holy Water, we sing, place our lovely stickers on our calendar, pray with Scripture and add our own petitions, for a truly wonderful family prayer time.
Before I get to the party fare of our first Garden Party,
The Good Shepherd's Pasture
, first I'd like to share a few additional items I added to our own Good Shepherd garden experience.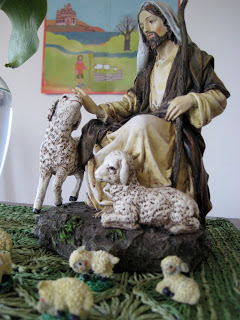 The first is a brand new statue of the Good Shepherd. I am
slowly
adding to our collection of religious art and statues. And I thought Easter would be a nice time to invest in a new one! The Good Shepherd seemed like an obvious choice, since I plan on doing this sticker calendar for years to come, and also because my children participate in the
Catechesis of the Good Shepherd
program at out parish. I found our statue at a local Catholic bookstore, but it also is available
online
.
I found a green
placemat
at Kohl's that, to me, looked like a grassy pasture. And I figure I can use it in a variety of ways in the future (for our home altar during Ordinary Time, underneath a vase of flowers, etc.).
And then, the cutest part of all, IMHO: these little lambs that I found in a candy store, of all places! There were exactly five in the store, which was the perfect number, as each represents one of my five children!
During our garden party, after I explained that each of these little lambs represents each of the five children in our family, my kindergirl noted that the two sheep on the actual statue represent me and my husband (since they are bigger in size). So, I guess we're all accounted for in the Good Shepherd's pasture! Cute, huh?!
The second item that I introduced to my family is this adorable book
The Lord is my Shepherd
. I picked it up a couple years ago at Wal-Mart, but there had not been a good opportunity to share it with the kids until now. With adorable illustrations, it tells Psalm 23 in a very sweet way. We read this book on Day Two of our sticker calendar.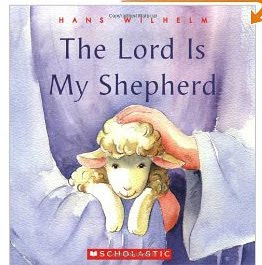 Onto the menu … This week, I broke up the party menu into two separate times, for simplicity's sake. Not that one couldn't prepare the entire menu for one meal, but dividing it just worked better for my family this particular week.
So, one night this week, we had the Mini Shepherd Pies and Shepherd's Crooks for dinner. The Shepherd Pies were a total hit with my children, so I will be adding this recipe into our menu rotation.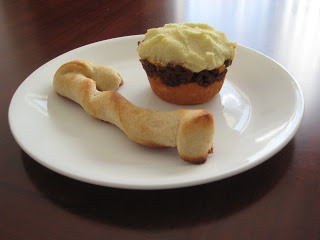 Then, on Saturday, I put together a tea party using the remainder of the menu.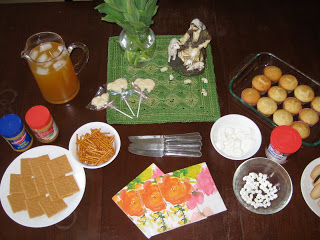 My garden party display (from left to right) :: Graham Cracker Gates, Lamb's Wool (punch), Ewe and Ram Cupcakes and Wolf Paw Cookies. The popcorn (God's Sheep =) was on the way ~ LOL!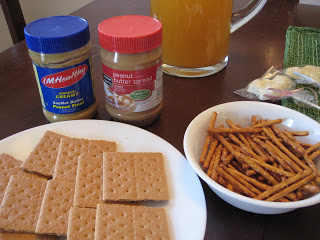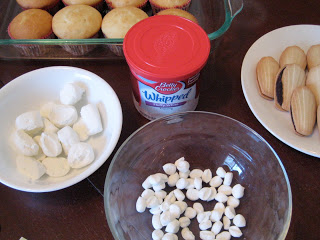 My children had a fabulous time making their own graham cracker gates and lamb cupcakes. Since we had the party on Saturday, my husband joined us, and decorated the ram cupcakes and wolf paws. (I had a hard time finding the Voortman or Pepperridge Farm cookies, so I used LU brand dark chocolate petite madeleine cookies, and we just drew lines of frosting on the tops to represent the claws.)
In the garden party menu, it was suggested to use lamb-shaped candy for decorations. I had a hard time finding the Lindt brand lambs or any other candy with lambs on them. Plenty of bunnies and chicks, but no lambs …
… until I went to that candy store that I mentioned above, and along with those little sheep, I found these cute white chocolate lamb-shaped lollipops! Yay!! I was so excited to find both of these items for our garden party in one shopping trip, just as I was about to give up completely on this part of the party … I only got one for each of my older girls, and they shared with the twins =)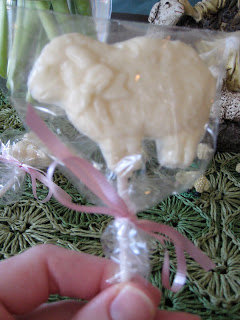 At the end of a lovely time together with our family (even Grandma ~
she's here
! Thanks for your prayers =), and after everything was cleaned up, I noticed our new Good Shepherd statue looked a bit different than when I put him out for display …
Those adorable little lambs had (mysteriously) climbed up onto his lap, to be a bit closer to him.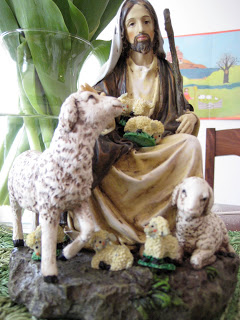 And I thought to myself, "As it should be. This is right where we are supposed to be: resting in the lap of our loving Good Shepherd."
To view more garden parties, visit
Catholic Cuisine
. (And it's not too late to host your own garden party. All the details can be found there, too!)
+++
I am the good shepherd; I know my own and my own know me, as the Father knows me and I know the Father; and I lay down my life for the sheep.
~ John 10:14-15 ~