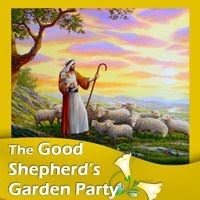 Garden Party 2 :: Welcome to the Lord's Table
Garden Party 2 :: Welcome to the Lord's Table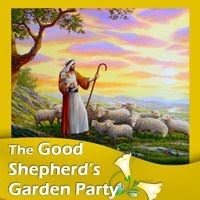 The Garden of the Good Shepherd
sticker calendar
and the
garden parties
have truly blessed—and enhanced—our family's celebration and understanding of the Easter season. Never has our Easter been so alive and so joy-filled! It is beautiful to come together each evening to pray, read Scripture and see a heavenly scene come to life through our calendar. It is helping our family get back into our family prayer time, which dwindled a bit due to the transition of moving. And the garden parties are like mini Easter feasts each week to continue the wonderful celebration of Our Lord's Resurrection.
Our second Garden Party was so delightful! It centered around the Lord's Table. This week, with the help of our stickers, we set the table for heaven's meal.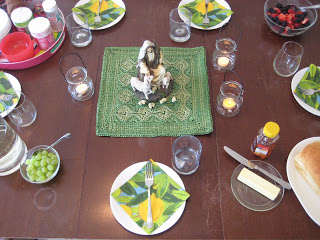 The first two stickers for this week were a table and chairs, so Jessica and Charlotte's menu simply suggested setting the table and decorating the chairs. I saw these pretty lemon napkins at SuperTarget, so our garden party ended up centering around that pretty yellow color.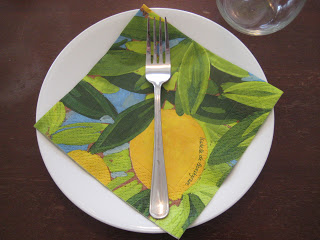 Yellow streamers adorned our chairs.
I also found these cute lantern-shaped tea-light holders in the dollar spot at SuperTarget, and I thought they'd be great for our garden party, as well as for future summer decorating, so three were put into my basket =)
On the table on our sticker chart, were stickers symbolizing very meaningful foods according to Scripture. And so those food made up our
menu
.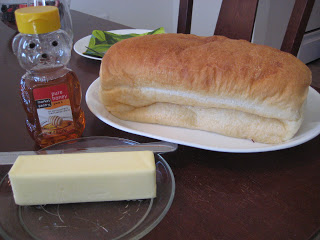 Bread and Honey
+++
And the Lord brought us out of Egypt with a mighty hand and an outstretched arm, with great terror, with signs and wonders; and he brought us into this place and gave us this land, a land flowing with milk and honey. And behold, now I bring the first of the fruit of the ground, which though, O Lord, hast given me. And you shall set it down before the Lord your God, and worship before the Lord your God.
~ Deuteronomy 26:8-10 ~
+++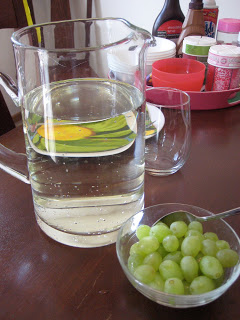 Wine
(Sparkling Grape Juice ~ I didn't have any skewers, so I just set extra grapes in a little bowl alongside our pitcher of "wine," and we added them to our glasses from there.)
Fruit
(I have no idea what happened to my fruit photo! ~ LOL ~ But I think you can see it in the background of one of the table shots … We served strawberries and blackberries, because the Song of Solomon verse talked about "choicest fruits," and strawberries and blackberries are indeed treats when it comes to fruit!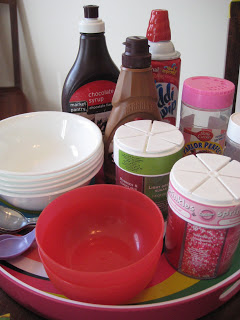 My trio loved making their own ice cream sundaes. At one point, my DH commented to one of them that he thought she had more toppings than ice cream in her bowl =)
+++
Ho, every one who thirsts, come to the waters; and he who has no money, come, buy and eat! Come buy wine and milk without money and without price. Why do you spend your money for that which is not bread, and your labor for that which does not satisfy? Hearken diligently to me, and eat what is good and delight yourselves in fatness.
~ Isaiah 55:1-2 ~
+++