Craft Basket Wednesday
Craft Basket Wednesday
This weekend, I knitted up a couple coffee cozies. I have wanted to try these for awhile. And now was the perfect time. We have a spring birthday party for my husband's family on Saturday, and two of my SILs will be receiving these along with a coffee gift card. I don't think they read my blog; otherwise, I just ruined the surprise!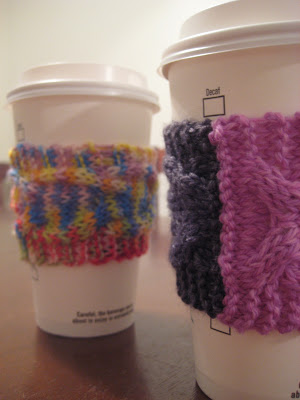 These were really easy and quick to make. They took a few hours total. The pattern can be found
here
. (Just scroll down a bit.) I used the leftover yarn from my
Fetching
fingerless gloves, but I didn't quite have enough, so I added a stripe of light purple, and I think it turned out cute. The multicolored one was made with yarn from
Carmen
.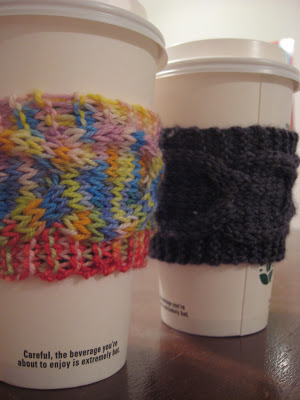 I am knitting another cozy using
this
pattern right now. The pattern suggests doubling up sock yarn, which I also received from Carmen. This is a new technique for me, but so far, so good. The only thing is that I think my DPNs are a bit long for such a little project, so it's a bit cumbersome, but at least it won't take long =) I'll be making this one as a Mother's Day gift.
So, what's in your Craft Basket today? Please share your creativity over at
Knit Together
.