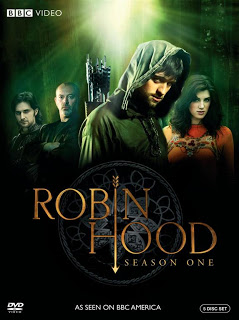 A month or so ago, my husband and I stumbled upon a delightful series that is available on
Netflix
.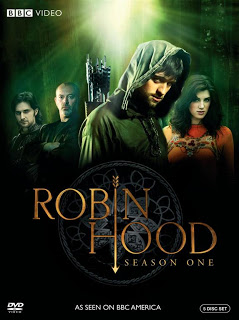 Robin Hood
was a series on BBC but after three seasons has ended. However, seasons one and two are currently available on Netflix (to rent or to watch instantly), and season three is available to rent only.
We just started season two, and it has been a really fun series to watch. There's, of course, action … But there's also some good humor and a bit of romance incorporated. The characters are well-developed, too.
Oh, and it's fairly clean! I don't think it's rated, but I'd say it's about a PG. Even the sword fights are fairly tame! All of the costumes are appropriate. And the romance is tasteful.
I'd highly recommend this series as a good one for summer. I don't think it's just me when I say that the shows the networks are coming up with seem to be getting worse and worse … But there are some nights when I don't really want to commit to a two-hour movie, but watching something sounds like fun … That's when an instant Robin Hood episode is perfect!
Check it out! And if you do, I hope you enjoy it!
On another
Robin Hood
note, do you remember when
Robin Hood: Prince of Thieves
came out in the early 1990s? Everyone went nuts over it … Well, after I saw it, my mom
made me
(encouraged me to =) watch the 1938 version of
The Adventures of Robin Hood
starring Errol Flynn, just to compare. And guess what? I liked the old one better! (Moms know best!) I wonder, when I get around to seeing the new Russell Crowe version if I'll feel the same … (Just a little, fun tidbit about me on this Thursday =)