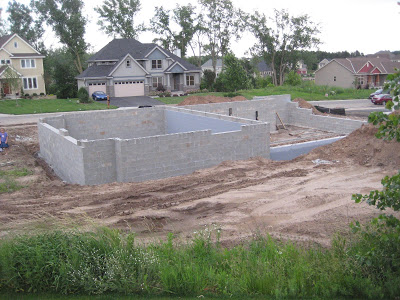 Making Progress
Making Progress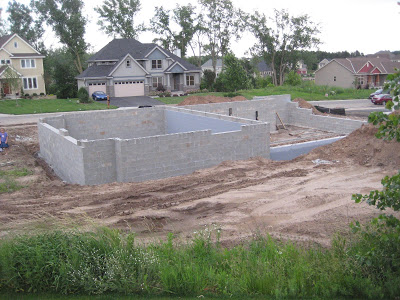 These photos may not look like much, other than some cement blocks, technically called the footings, which you can't see, and the foundation, which you can see.
But to us they scream "progress!"
We drive over each night we know the builders have been working to see what they have done. Even if it seems small, we know that each tiny building step is one step closer to living in this house. We can't wait. (I think I've already told you that, but it's worth repeating.)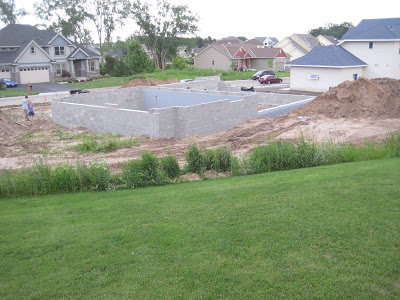 my husband explaining to my oldest what is what on our house … the square closest in the photo is our garage … the one behind it is our house …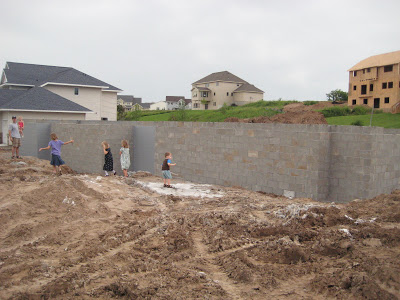 the front, garage side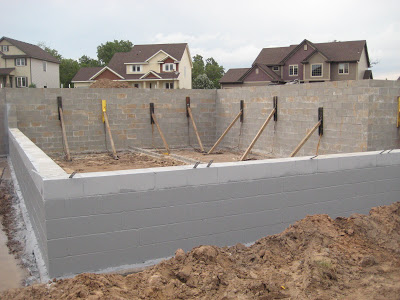 on top of this portion of the foundation will be our main living spaces
Next week, the
framing
will begin. To get a visual of what framing is, just look at the house (third from right) that is behind our foundation, in the photo above.
Other than our building project, our summer-y days have been fairly simple. We haven't been doing too much, other than hanging out, crafting, doing workbook pages, swimming, reading lots of books, and going out for ice cream. One of the blessings of living in a rented townhouse is that we have no house projects, nothing that we have to fix or do. This frees up a lot of time for us to spend together. It'll probably be the only summer that is like this. And although the cramped quarters can drive us all a little crazy from time to time, we are trying to savor the simplicity, easy living and togetherness.