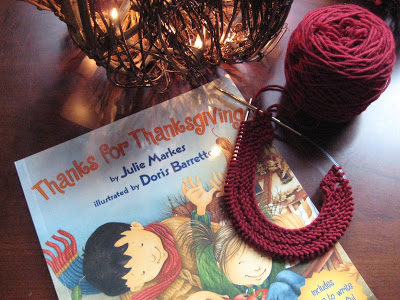 Yarn Along II
Yarn Along II
It's late in the afternoon. All is fairly quiet, so I just started a new project. Just in time to participate in Ginny's weekly
Yarn Along
.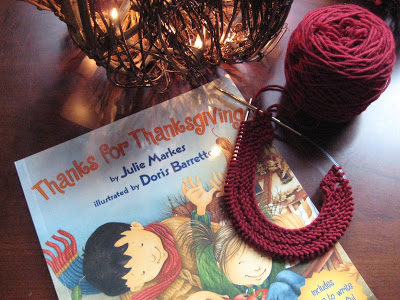 It's the
February Doll Sweater
from Petite Purls. With some suggestions from
Jenn
, I am knitting it for my daughter's American Girl doll, Kit, even though the pattern is intended for a slightly smaller doll. I'm knitting it with the remainder of the red yarn I used for the
Cute Noggin Baby Hat
that I featured
last week
. I did complete it and will post the end result soon. (Is this turning into a knitting blog? No, it's just the season! =)
Anyway, I still haven't found much time to read on my own. There just aren't enough hours in the day! But here is a favorite book of ours. One that we enjoy reading every November.
Thanks for Thanksgiving
has the most adorable illustrations. I just love the sweetness of this book. I can read it over and over again, and my children like it just as much!